Promoting Appreciation, Preservation, and Rehabilitation of Michigan Barns, Farmsteads, and Rural Communities Since 1995
MBPN Attends the 2018 Northern MI Small Farm Conference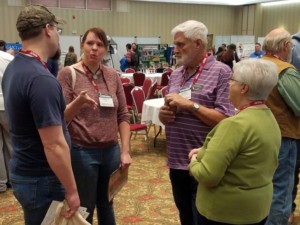 The Michigan Barn Preservation Network (MBPN) was represented at the 2018 Northern Michigan Small Farm Conference held in Acme, Michigan on January 26 and 27. This is the fifth year we have attended. More than 1,000 individuals were registered for the conference and over 60 organizations and businesses participated in the trade show.
This conference and MBPN have overlapping interests. Many of Michigan's small farms are using historic farmsteads with traditional and timber frame structures. We hear stories of repairs and restorations, as well as losses.
This year, Board members Steve Stier and Clare Koenigsknecht committed to at least 10 barn visits or walkthroughs, helping owners understand the condition and needs of their barns. For this service, we ask for a membership in return.
During this year's conference, we also:
Learned about a barn already dismantled and stored waiting for a new owner.
May have found a use for an old wood silo as an artist studio.
Were asked for help to identify the historic value and research a historic Michigan Jewish farm.
Met a couple that spent 20 years restoring a traditional Finnish farmstead.
Talked with a gentleman who saved and restored his family barn by himself.
MBPN is planning to continue our connection with this annual conference of small farmers, and will suggest some conference presentations for next year's conference.
Suggestions are welcome from readers about other organizations and conferences where we could present about barn preservation, or take our exhibit. This is a great way to let other groups know about what we do and our good works.
And finally, lots of folks know MBPN for our annual calendar. Many came by for this year's edition, too.
Julie Avery, Board Member and Communications Team Chair

Michigan Barn Preservation Network Newsletter
Winter 2018: Michigan Barn Preservation Network Newsletter
In this issue:
Barn of the Year Award: We Can't Save Them All, But…
Preservation Stories
And more…
~~~~
Fall 2017: Michigan Barn Preservation Network Newsletter
In this issue:
Time to Reflect, Grow, and Make a Difference
Never Underestimate the Power of a Model
And more…
~~~~
Summer 2017: Michigan Barn Preservation Network Newsletter
In this issue:
2017 Barn of the Year Awards
Barn Tour Highlights
And more…
~~~~
Still wanting more? You can find more back issues here.
Michigan Barn Preservation Network Accepting Nominations for 2018 Barn of the Year Awards
January 23, 2018 – The Michigan Barn Preservation Network (MBPN) is requesting submissions for its 2018 Michigan Barn of the Year awards. Winners of the awards will be announced at the 23rd Annual Conference scheduled for May 4-5, 2018 at the AgroLiquid Education Center located in St. Johns, Michigan.
The Barn of the Year Program annually honors existing Michigan barns that exemplify outstanding character in our state. Nominated barns must have been built before 1957, and be in-use either for continued agricultural use or adapted for others uses. Barns must retrain their overall appearance, including both interior and exterior barn characteristics.
This is the 21st year MBPN has presented its "Barn of the Year" Awards. A total of 69 barns from across Michigan have been recognized since the inception of this award.
Nominations are open to the public and are reviewed and selected by MBPN Awards Committee members.
Award Categories:
Continuing Family or Private Agricultural Use
Family or Private Adaptive Use
Non-Profit Agricultural or Adaptive Use
Commercial Agricultural or Adaptive Use
Nominations must be postmarked by March 23, 2018.
~~~~~~~~~~
To see last year's winners, please take a look at the following presentation:
2017 Barn of the Year Award Presentation  (848KB PDF)
"What does it cost to restore my barn"? Our frequently asked questions page provides answers.
Keep up on the latest in our calendar of events.  Go to Events to see a full calendar, or choose an event from the drop down list of the "Event" menu button.
Membership in MBPN provides a number of benefits, but not limited to, discounts, newsletters and priority registration for events.
Access to our resources includes listings and images of Barns of the Year, Pride of Ownership awardees, Contractor listings and Event Bars.
As a part of our ongoing efforts to provide outreach and educational programs to further community involvement the MBPN will continue to build efforts like Teamwork & Timbers.
Visit our Contact page to submit a question or comment using our contact form. Specific contact details for our board members is provided on our About page.
Help support and promote the MBPN with a purchase from our Products page.
The Granary has found a new Home!
MBPN has completed the sale of the Granary to a family in Bruce Township, Michigan.