Mission: Promoting Appreciation, Preservation and Rehabilitation of Michigan Barns, Farmsteads and Rural Communities since 1995
Welcome to the Michigan Barn Preservation Network, a volunteer-based, statewide nonprofit dedicated to promoting appreciation, preservation, and rehabilitation of Michigan barns, farmsteads, and rural communities. We are committed to the rehabilitation of barns for agricultural, commercial, public, and residential uses. Adapted re-use is a significant strategy for barn preservation – all structures need a reason for being.
2019 MBPN Annual Calendar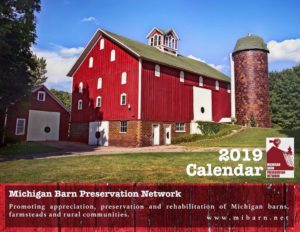 Twelve restored Michigan barns are presented as inspiration and encouragement for regular maintenance, rehabilitation and restoration.
The calendar is distributed free by mail to all members of the MBPN.  Additional copies are available for a $5.00 postage and handling fee.
Contact Jim Mulvany via email at mulvanyjamese@gmail.com or via U. S. Mail at 444 High Point Drive, #6, Mason, Michigan 48854. Please make checks payable to MBPN.