Promoting Appreciation, Preservation, and Rehabilitation of Michigan Barns, Farmsteads, and Rural Communities Since 1995
Join Us At The 23rd MBPN Annual Conference
Mark your calendars, get your cameras ready and register for the Michigan Barn Preservation Network's 23rd Annual Conference set for May 4-5, 2018 at the Agro-Culture Liquid Fertilizers World Headquarters and Museum in St. Johns, Michigan.
We have a packed weekend this year with our highly anticipated barn tours, a Friday night dinner presenter with some Michigan barn stories and packed day on Saturday of presentations and reconnecting with friends. Maybe even connecting with some new friends, too.
All the details and registration information can be found on our MBPN Annual Conference page, including agenda, events and lodging near the conference.
Sign-up early to make sure you have a spot.
The PreConference MI Barn Newsletter Now Available.
You can download the 2018 pre-conference newsletter right here. In side you'll find:
2018 Annual Conference Information
A preview of the 2018 Spring Barn Tour
And more…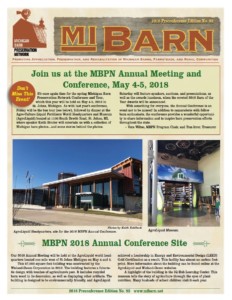 "What does it cost to restore my barn"? Our frequently asked questions page provides answers.
Keep up on the latest in our calendar of events.  Go to Events to see a full calendar, or choose an event from the drop down list of the "Event" menu button.
Membership in MBPN provides a number of benefits, but not limited to, discounts, newsletters and priority registration for events.
Access to our resources includes listings and images of Barns of the Year, Pride of Ownership awardees, Contractor listings and Event Bars.
As a part of our ongoing efforts to provide outreach and educational programs to further community involvement the MBPN will continue to build efforts like Teamwork & Timbers.
Visit our Contact page to submit a question or comment using our contact form. Specific contact details for our board members is provided on our About page.
The Granary has found a new Home!
MBPN has completed the sale of the Granary to a family in Bruce Township, Michigan.