Awards Program
The Barn of the Year program annually honors existing Michigan barns that exemplify outstanding character in our state. Nominated barns must have been built before 1957 and be in use for one of four purposes. Barns must retain their overall appearance, including both interior and exterior characteristics. Nominations are open to the public and awarded to the barn owners at the Michigan Barn Preservation Network Annual Conference each spring.
For 2018, five Barns of the Year were recognized in three categories: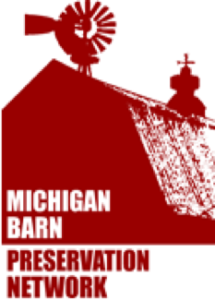 Continued Agricultural Use:
Lundberg Barn—Dimondale, MI in Eaton County.  Owners:  Keith, Pat & Kay(Ardis) Lundberg
Mayo Barn—Ortonville, MI in Oakland County.  Owners:  David & Kathleen Mayo
Private Adaptive Use:
Moser/Craig Barn—New Sewickley, PA in Beaver County.  Owners:  Art & Liezel Moser Craig
Bruins Barn—Allendale, MI in Ottawa County.  Owner:  Tom Bruins
Non-Profit Adaptive Use:
White Dove Barn—Hillsdale, MI in Hillsdale County.  Owned by White Dove Ministries
You can see this year's photos and barn information here.