About MBPN
The Michigan Barn Preservation Network is an active state-wide 501(c) 3 organization of barn owners and enthusiasts. MBPN fosters sharing of barn experiences, hosts an annual conference, publishes a regular newsletter, recognizes barn rehabilitation and education successes, helps identify speakers for programs, and assists in identifying rehabilitation information.
Barns are economic resources and symbols of our agriculture heritage. They are attractive images on the landscape. The Michigan Barn Preservation Network is committed to rehabilitation of barns for agricultural, commercial, residential, and public uses. MBPN membership supports efforts to:
establish knowledge and resources for barn rehabilitation
establish an endowment for barn rehabilitation
MBPN is a member of:
– National Barn Alliance (NBA)
– Michigan Historic Preservation Network (MHPN)
– National Trust for Historic Preservation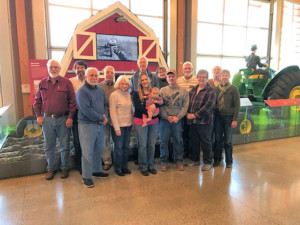 MBPN Board of Directors
Board Members

Ad Hoc & Committee Chairs
Quarterly board meetings at significant farmstead locations throughout Michigan expand MBPN.
Over the last number of years the MBPN has experienced continued growth and commitment from our board and committee members. The level of excitement in the organization continues to grow due to a renewed vision of the MBPN mission. New programs like our flagship program, Teamwork and Timbers, has seen a real commitment by a growing group of volunteers and an excitement in the communities who have benefited from this program.
We want to hear from you if you are interested in participating, Contact Clare Koenigsknecht.
"Preserving Michigan's Barns" – is available for loan. It showcases the rich diversity of Michigan barns, and provides examples of adaptive re-use of barns for agriculture, community, business, and home. The exhibit overviews the work of MBPN and challenges viewers to get involved in their communities and through the network.
The exhibit is comprised of six 7′ tall banners and banner stands. For details and content download this file and zoom in.