Preserving Michigan Barns 
The Michigan Barn Preservation Network exhibit, Preserving Michigan Barns, is available for loan. It showcases the rich diversity of Michigan barns, and provides examples of adaptive re-use of barns for agriculture, community, business, and home.
Our exhibit provides an overview of the work the MBPN does throughout the state, and challenges viewers to get involved in their communities and through the network.
View Display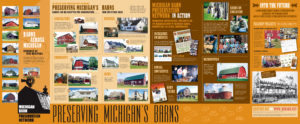 The exhibit is comprised of six 7-foot tall banners and banner stands.
For details and content download this file and zoom in.