Preserving Michigan Barns
The Michigan Barn Preservation Network exhibit, Preserving Michigan Barns, is available for loan. It showcases the rich diversity of Michigan barns, and provides examples of adaptive re-use of barns for agriculture, community, business, and home.
Our exhibit provides an overview of the work the MBPN does throughout the state, and challenges viewers to get involved in their communities and through the network.
View Display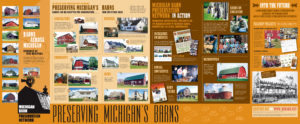 The exhibit is comprised of six 7-foot tall banners and banner stands.
For details and content download this file and zoom in.
Please contact us to inquire about reserving the exhibit.
Recent Bookings
Fall Family Days at the Thumb Octagon Barn
MBPN brings the "Preserving Michigan Barns" display to the festival, which is held annually the weekend after Labor Day. (See photo above.) The exhibit includes the panels, artifacts and the Teamwork & Timbers model barn that the 4-H kids erect.
---
A Celebration of Abundance! Michigan Farming
The Oxford Public Library showcased the rich agricultural resources and historical whatnots of Michigan farm life with a special exhibit on loan from the Michigan Barn Preservation Network.
---
Northern Michigan Small Farm Conference
Farmers, home-scale growers, students, food producers and eaters gather at the annual Small Farm Conference to network, share ideas and gain new skills that will make small farms in Michigan more economically viable and environmentally sustainable. MBPN is often represented. For information, go to: http://www.smallfarmconference.com.
---