Finding Resolutions for Valued Barns
If the First Act is building barns and establishing agrarian lifestyles and practices, the Second Act is considering the fate of those agrarian buildings following the industrialization of farming. The 2019 Michigan Barn Preservation Network conference posed the question, "What is the Third Act for an old barn?
Conference Highlights
Ann Arbor Barn Tour 
The bus tour on Friday, May 31 in western Washtenaw County visited three pre-civil war barns, two late 19th century barns and an early 20th century barn. View the barns.
Saturday Program
The all-day session on June 1st at Dawn Farm in Ypsilanti included the MBPN annual business meeting, the Barn of the Year awards lunch, auctions and guest speakers.
A Barn to Anchor a Sustainable Community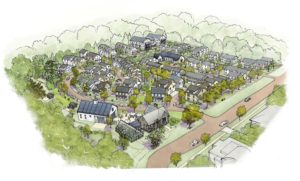 An expert in sustainability and green technologies for building,  speaker Matthew Grocoff shared his mission to develop truly sustainable human-built environments that are "nature rich and ecologically restorative."
He presented his plan for Veridian at County Farm, which is slated to be the nation's first multi-income, net-zero energy community. It will be powered by solar energy and not have any gas lines or combustion appliances.
He believes we should respect and save vernacular architecture, such as valued old barns. He intends to move a rare pre-Civil War barn (stop #2 on the tour) to the Veridian site to serve as a community center. The basement will be an education space for promoting responsible building, environmental stewardship and barn heritage.
Moving Old Barns to a New Organic Farm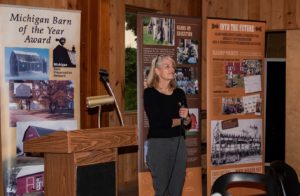 Cindy Stiles presented her vision for a new organic farm in Ann Arbor Township that includes incorporating four unwanted timber-framed barns as the primary structures.
One will be used for her animals, the second for her private house, the third as a work building, and the fourth for an educational building and kitchen.
She spoke about her goals for this property, the many issues with the buildings and the challenge of getting approval from zoning boards.
The Water is Rising — Rescuing Old Barns in Time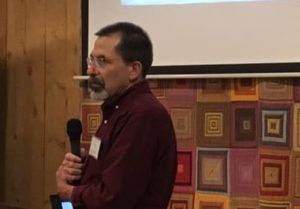 Architect and barn preservationist Chuck Bultman, who served as Conference chair and tour curator, summed up the two-day gathering with his reflections.
The water is rising –- the time is ticking for many old barns.  It is up to us to be educated and aware, so we can help make the case for their preservation and act before it's too late.
There are valued barns that need to be relocated because they are too close to the road or in the way of development. When the owner or municipality wants the barn gone, the rescuer must move fast. Recently Bultman had to take down a barn on very short notice.
---
Recap: 2018 
The 23rd Annual Michigan Barn Preservation Network Conference was held May 4 and 5, 2018 at Agro-Culture Liquid Fertilizers World Headquarters and Museum located in St. Johns, Michigan.
Friday we featured our bus tour of local barns in Clinton and Ionia counties.  For dinner, we gathered at the Agro-Culture Liquid Fertilizers World Headquarters for some great food and entertaining stories and photos about Michigan barns from Keith Bruder.
The Saturday program featured speakers, auctions and other presentations. One of the highlights was the announcement and presentation of the Barn of the Year awards.
In addition to camaraderie with fellow barn enthusiasts, the conference provided a wonderful opportunity to share information and to inspire barn preservation efforts throughout the state.
To view the agenda of last year's conference, click here.
---