---
MBPN Annual Conference Schedule
Saturday, March 4, 2023 at MSU's Kellogg Center in East Lansing
Welcome and Announcements
Annual Membership Meeting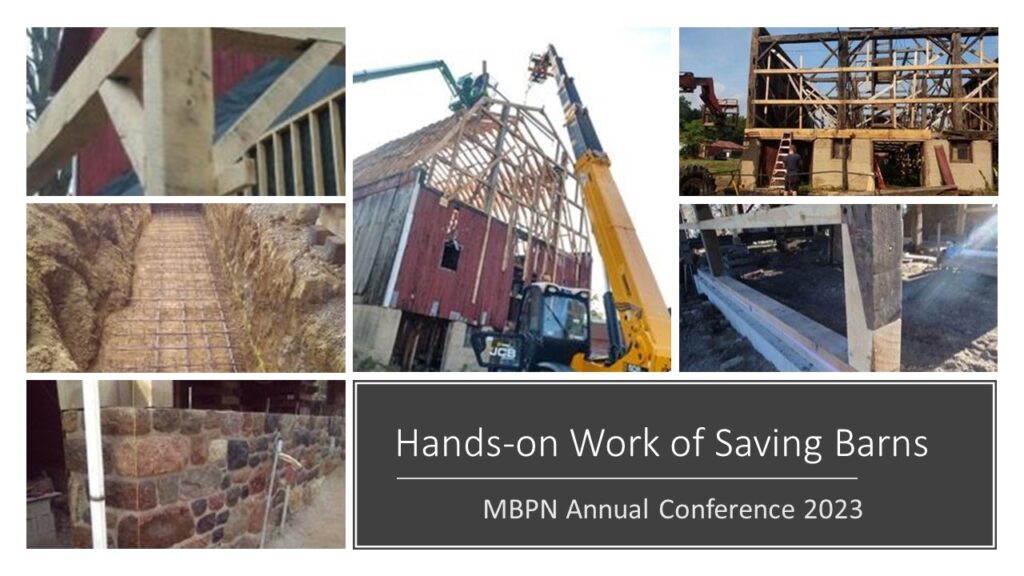 Program Introduction
Steve Stier, MBPN Technical Committee Chair, introduced four experts who have each spent many years doing the actual hands-on work of barn construction and preservation.
Morning Presenters
Chad Stitt started his own business, American Heritage Barn Preservation, in 2016 after growing up working with his dad, grandpa, uncles and cousins in this specialty. He discussed foundation repairs, structural straightening and general barn repairs.
Dan Dietz – Dan's company, Deitz House Moving Engineers, has been moving buildings, big and small, all over Michigan for over 70 years. They have moved dozens of barns in the most dramatic ways of saving barns. Dan's presentation made relocating a barn look easy.
Buffet Lunch, Fun & Networking
MBPN Annual Auction Benefit
Barn of the Year Awards

Afternoon Presenters
Michael Schmitt – A stonemason and stone carver for 20 years, Michael has extensive background in traditional authentic stone masonry. He uses historically correct methods and materials – splitting stone by hand and using traditional lime mortars. He demonstrated stone-laying techniques, explained the different types of mortar and described the levels of stone foundation repair – tuckpointing or repointing, leaving the old foundation and relaying the face, or a complete rebuilt.
Ken Brock – Barn preservation consultant and retiring timber framing and barn repair contractor Ken Brock of Legendary Timberworks shared his thoughts on the past, present and future of barn preservation. He reflected on his career repairing, lifting, moving and restoring structures and recalled some of his most significant projects that involved historical societies and public-private partnerships.
Wrap Up
---
See recaps from MBPN Annual Conferences in 2022, 2020 and 2019.
---