Seeds planted in the late 1980s led to the establishment of MBPN as a nonprofit in 1995. The first annual meeting was held the following year with nearly 200 in attendance.
Barns and farms have been critical to community and state development since the time of settlement. Their presence continues, as does the rehabilitation and adapted use of barns to serve the needs of Michigan citizens and communities. This summary charts MBPN's emergence and development.
Early Michigan public awareness activity around barns
Individuals interested in writing, history, photography, archaeology and architecture brought Michigan barns into the limelight during the late 1980s and early '90s exploring and sharing the significance of Michigan barns in the public and academic sectors.
Barn Rehabilitation Workshops identify growing interest in barns.
During 1991 and 1992 MSU Extension and Museum staff developed a barn rehabilitation workshop near Marshall. Strong interest inspired a series of five workshops held across the state through 1993. MSU Extension and Michigan Humanities Council funding supported the presentation of topics from the history of barns to rehabilitation, adapted use, and preservation approaches. Extension specialists, historians, contractors and barn workers were involved. Large numbers of attendees demonstrated an unexpected level of interest and identified Michigan barn workers. Attendees and organizers began networking to explore other options.
Other interest was growing – in Michigan and the Midwest
Also during 1992 and 1993, four individuals developed and piloted the Michigan Barn & Farmstead Survey Project which brought 4-H youth and adults together to document traditional barns and farmsteads one-area at a time. Designed to educate youth about barns and agricultural history, founders also wanted to introduce the concepts of preservation at an early age.
At same time:
A group of individuals from Michigan, Indiana, Illinois, Wisconsin, Texas, and the National Trust for Historic Preservation-Barn Again! Program began meeting annually in Chicago discussing barn preservation. Included were Extension, State Historic Preservation Offices and academic staff. This group was the forerunner of the National Barn Alliance which formed in 1996. Individuals and groups in other states began exploring state barn preservation organizations.
In 1994 an Eaton Rapids, Michigan barn was dismantled and taken to Washington D.C. as a part of "Barn Again," a national exhibition of the National Trust for Historic Preservation. This brought national attention to barn restoration. A public barn raising was held inside the National Building Museum in Washington, D.C. Michigan barnwright Dave Ciolek, located the barn and lead a two-day public raising with a group of volunteers that included Michiganders.
Michigan forms barn organization
Inspired by the barn rehabilitation workshops, a focus group was held in 1994 during MSU's 'Ag & Natural Resources Week to explore creating an organization. Other meetings followed at the State Historic Preservation Network, MSU Museum, and the State Grange. Later that year the Marshall area Grange hosted the group where lead people identified interests and goals and committee work began to organize for nonprofit status. Consensus was that this organization would be independent and not affiliated an existing group.
The Michigan Barn Preservation Network (MBPN) was founded on March 2, 1996 during Ag & Natural Resources Week at MSU when MBPN held its first annual meeting. More than 200 attended; 149 joined as members and adopted the bylaws and mission "to promote appreciation preservation and rehabilitation of Michigan barns, related farmsteads, and rural communities." Vera Wiltse was elected the first president. MBPN became a 501 c3, nonprofit organization.
MBPN evolved and grew
Between 1995-2022 seven individuals have led the organization as president: Vera Wiltse, Jack Worthington, Keith Bruder, Brad Brogren, Steve Stier, Clare Koenigsnecht and Tom Irrer.
An annual conference was held at MSU as a part of Ag and Natural Resources Week 1996 – 2015. In 2016 conferences were located around the state to reach new audiences and meet members. In 2008 Russ Mawby encouraged and funded a first MBPN Strategic Planning which has been repeated every 3-5 years since.
The conference grew to two days as Friday special programming and barn tours were added to the agenda. In 2001, MBPN, Extension and the MSU Museum collaborated to present "Understanding the Farmstead," a symposium which brought researchers and historians from the East and Midwest. Spring Barn Tours have been a Friday pre-conference staple since 2005. While still at MSU, barn tours became so successful that two busses were required. In 2011, an Agricultural Tourism Workshop was a pre-conference workshop, sponsored by the MSU Museum and Extension.
Training and networking activities emerged. Hands-on-workshops and mini-grants have encourage annual small group learning opportunities. In 1999 c.a. Fall Events were added that took MBPN into new areas of the state. Regional meetings, partnership programs, and regional barn and color tours have been held in: Escanaba, Gagetown, Mason Co., Scotts, Isabella Co., Mackinaw & Chippewa Cos., Washtenaw Co., Thumb Area, Leelanau Co., and Wexford & Missaukee Cos.
MBPN spreads the word in print, electronic format and with a website. This includes brochures, rack cards, conference and events announcements, and regular newsletters since 1996. An annual contractors & barn workers list began in 1997 and since 2005 has continued on the website. An Event Barns directory was added to the website along with Barn of the Year winners.
Award and recognition programs were initiated. Barn of the Year awards recognize barns and owners who paid special attention in repair and restoration began in 1996. A Pride in Ownership Award program enables Board Members to recognize barns. An Annual Calendar was initiated in 2011.
Endowment Planning began in 2007, and in 2018 an endowment fund was established at the Capitol Region Community Foundation with $25,000 raised from 23 lifetime memberships.
Michigan Barn & Farmstead Survey, a project developed outside of MBPN in 1993, was taken on in a significant way in 2019 with funding and organization.
Partnerships and collaboration are our effective way of working for MBPN. The network has presented and collaborated regularly with many organizations: MSU (Museum, Extension, Grandparent's Weekend, Autumn Festival and 4-H Exploration Days), Mi Historic Preservation Network, Northern Michigan Small Farm Conference, and Sleeping Bear Dunes National Lakeshore. Other partners include: Michigan Humanities Council, National Barn Alliance, Gagetown's Octagon Barn.
Exhibits were also developed:
– Michigan's Heritage Barns: Mary Keithan's photographs. Available for loan: https://www.museum.msu.edu/traveling-exhibition-services/
– "Preserving Michigan's Barns" (1994) for a Michigan tour of the National Endowment for the Humanities BARN AGAIN exhibition and updated in 2015 for use throughout the state.
#  #  #
Michigan Barn Featured at National Building Museum, Washington, DC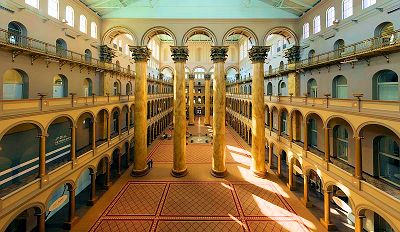 One event that helped to spark MBPN's establishment in 1995 was the March 1994 raising of an old Michigan barn at the National Building Museum in Washington, D.C. A group of largely urban volunteers under the direction of Dave Ciolek, a Michigan barnwright, spent two days raising a small post and beam barn from Eaton Rapids, Michigan. The event was featured in The Washington Post and later in the National Trust's Preservation magazine. The barn remained on display until the following September and was visited by tens of thousands. This widely publicized raising demonstrated the interest and value that the general public places in preserving rural architecture and barns in particular.