Barn of the Year Award for Commercial Adaptive Use
Wedding Venue Business:
Timber framing experts relocate and rebuild a barn of their own
Coming from a long line of timber frame barn restoration specialists, Sam Stitt IV and his wife Jennifer decided to use their knowledge, craft and expertise to create a beautiful space for weddings. They took on a massive multi-year project to disassemble, relocate, reassemble and restore a dream barn.
In 2013, the team from their family business, Great Lakes Barn Preservation, dismantled a very weathered barn at Fischer Tree Farm in nearby Rothbury (Oceana County), including its attached lean-to and original shed. It was relocated to property in Shelby that has been in Jennifer's family since 1921 and is home to another venue space, the Patriot barn, which they also relocated and restored.
Since the barn was not maintained for decades, it required major rehabilitation, including:
Replacing rotten tenons
Raising the structure two feet to provide head room
Installing two layers of new rough sawn white pine siding
Building new traditional sliding doors
Putting on new rough-sawn white pine roof sheathing and a metal roof
In addition, interior finishing for a commercial event space involved adding modern amenities and making the barn compliant with ADA and building codes for entertaining.
During its first 121 years, the barn was home to the normal activities of Michigan historic barns – sheltering animals, storing straw for bedding, supporting crop production and hosting social activities like the Junior Farm Bureau's corn husking bees.
In its new form as a state-of-the-art venue, it is called the Legacy barn. Likewise, the name of their business — Heritage Wedding Barns — reflects the deep heritage they have in both the land itself and their family trade of restoring timber frame barns.
"After many years of working on other peoples' barns," says Jennifer, "we can now enjoy our own barn and having others enjoy our family heritage as well."
#  #  #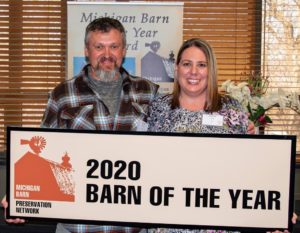 Samuel IV and Jennifer Stitt were honored in the commercial adaptive use category for the creation of Heritage Wedding Barns in Shelby.