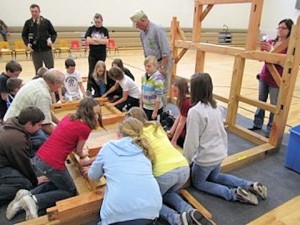 MBPN's youth barn raising is a one-of-a-kind learning opportunity that provides information, exposure and experience through a traditional community barn raising common in Michigan communities during the late 19th and early 20th centuries. Similar to husking bees, quilting bees, and other shared work activities, neighbors depended upon each other to accomplish what they could not do alone.
Students of all ages can erect a quarter-scale, timber-frame model barn. These 3-D hands-on, life-size puzzles routinely travel to classrooms to demonstrate historic construction techniques while challenging students to use their math, science, and engineering skills. And of course, learn to work as a team.
2019 Schedule
Upcoming: Aug. 24 – Sept. 9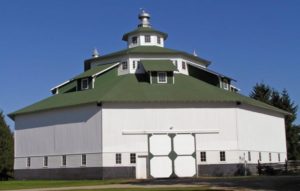 Thumb Octagon Barn Agricultural Museum
6948 Richie Rd., Gagetown, MI
Barn raising class for children ages 9 and up on Aug. 24, 9 am to 3 pm. To register, call Rose Putnam at 989-444-9574. Class fee is $10.
The timber-frame model barn erected will be on display until Sept. 9.  Paul Deo will give presentations during Fall Family Days on Sept. 7 and 8.
Earlier this year, Teamwork & Timbers activities took place at:
Northern Michigan Small Farm Conference at Grand Traverse Resort (Jan. 25-26)
4-H Exploration Days at MSU in Morrill Hall of Agriculture (June 19-20)
Gordon Hall Days in Dexter (June 22-23)
Grandparents Day at Michigan State University (June 25)
Teamwork & Timbers at the 2019th Sm. Farm Conference

MBPN is at the No. MI Sm. Farm Conference in Acme (TC Resort). Today Board members Vera and Steve worked with our young crew with 'Teamwork & Timbers" – raising a 1/4 size barn frame. –Check out our progress! Tomorrow Steve will present "Barn School". We are tickled to be at this conference again this year — many small farmers with traditional barns. The 1/4 size frame will remain up — next to our exhibition booth through– tomorrow!

Posted by Michigan Barn Preservation Network on Friday, January 25, 2019
Kids help build Teamwork & Timbers model barn at the 2019 Northern Michigan Small Farm Conference.
Contact MBPN to ask about scheduling T&T for your group.
Download the Teamwork & Timbers venue brochure for more information.