UPCOMING EVENTS
Save the Date: The 2024 MBPN Annual Conference will be held on Saturday, Feb. 24, 2024 at MSU's Kellogg Center in East Lansing.
---
PAST EVENTS
Pioneer Day
Sunday, Oct. 8, 2023, 10am – 5pm
Location: Waterloo Farm Museum,
13493 Waterloo Munith Rd, Grass Lake, MI 49240
This celebration of late 19th century farm life includes tours of the Farm Museum, Dewey School, live music, demonstrations of crafts, trades and traditional cooking methods as well as vendor booths and concession stand. The MBPN Teamwork & Timbers model barn is on display.
Contact: (517) 596-2254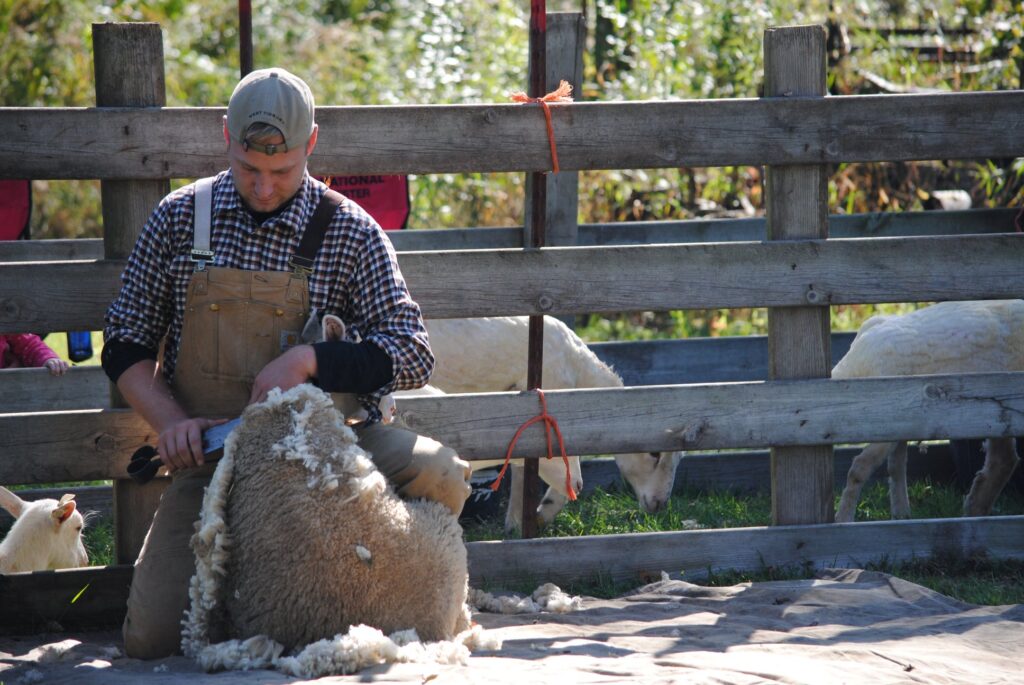 ---
Romeo Barn Tour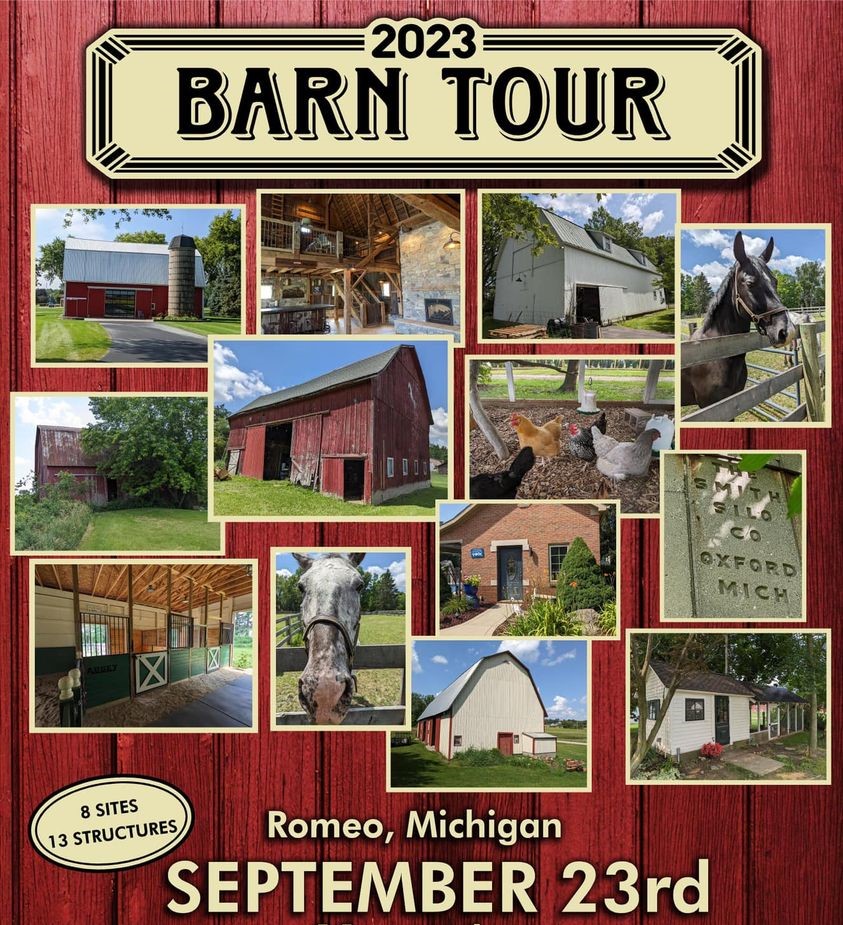 Saturday, Sept. 23, 2023,11am – 4pm
This Macomb County community hosts an annual barn tour every September. This year there were 8 locations on the self-guided tour for a viewing of 13 structures.
Advance tickets can be purchased at the Romeo Archives Museum, Town Hall Antiques Mall or the Romeo Chamber of Commerce. Cost is $20 for adults and $10 for children 6-12.
Day-of tickets are sold only at the Romeo Schools Administration Building parking lot at 316 Main Street.
Contact: the Romeo Historical Society at 586-752-4111.
---
Fall Family Days at the Thumb Octagon Barn
Sept. 8-10, 2023
Location: 6948 Richie Rd, Gagetown, MI 48735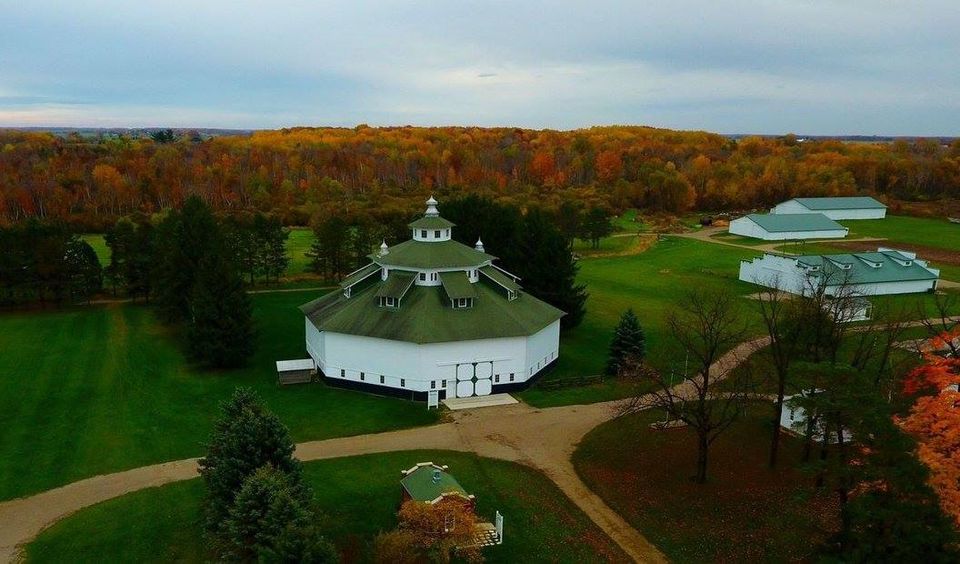 Octagon Barn Agricultural Museum near Gagetown
The Thumb's premier barn festival is held the weekend after Labor Day. It kicks off with the Fish Fry on Friday night, followed by two days of family events on Saturday and Sunday. The MBPN exhibit and timber-frame model barn will be on display in the barn museum during the festival.
Information is posted at the Museum's website and Octagon Barn Facebook Page. Registration is required for kids 10 and up to participate in the building of the model barn in August. Contact MBPN member Rose Putnam, who co-chairs the event for Friends of the Thumb Octagon Barn, at 989-444-9574.
---

Monday, Aug. 14, 2023, 10am to 4pm
Location: Antrim County
After several years online only, the Northern Michigan Small Farm Conference returned in a new form in 2023. The workshops and discussions, item swaps, art experiences, Farm Bill listening sessions, etc. were held at farms in Antrim County. Farm tour and workshop locations:
Providence Organic Farm (Central Lake)
Rocky Top Farms (Ellsworth)
Danu Hof Family Farm (Mancelona)
Buckwheat's Market Garden (Central Lake)
Parsons Farm & Harwood Gold (Charlevoix)
This annual event is a program of Bellaire-based Crosshatch Center for Arts & Ecology.
---
Sleeping Bear Dunes Barn Restoration Workshop
June 12-16, 2023
Location:  Miller Barn, 4 miles north of Glen Arbor, MI on M-22. Turn onto Port Oneida Road, then Miller Road and follow signs.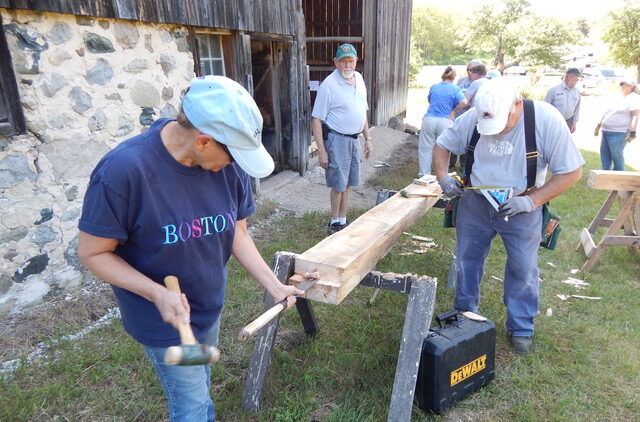 Sleeping Bear Dunes National Lakeshore park maintenance staff annually hosts a "hands-on" barn restoration workshop in June. It covers topics such as wood siding repair, barn floor joists, beams and floor boards, animal stall repair, door and window repair, loft repair and much more.
Workers are not required to be skilled in the building trades, though experience is helpful and appreciated. The purpose of the workshop is to teach the techniques and train owners and those interested how to do restoration work on timber and frame structures.
Camping is allowed on site at the Miller Barn during the workshop for all registered participants interested in doing so. Amenities are provided on site, including access to showers at park campgrounds.
For information about next year's event, contact the park historical architect, Kimberly Mann at (231) 326-4771 or send an email to [email protected].
---

---
Date: Saturday, May 27, 2023
Location:  County Road 616, west of Maple City in Myles Kimmerly Park, a Leelanau County Park.
Contact: [email protected]
"Save the Poor Farm Barn" preservation efforts of the last few years:
Meet the contractors and volunteers who have done the barn and grounds work.
Learn about Row x Row nonprofit who handles the vegetable garden and assists with distribution through local pantries.
Activities include:
Draft horse demonstrations (discing, harnessing and wagon rides)
MBPN Barn Exhibit, Leland Historical Society Museum's new Model A and more from local history museums
---
Date: Sunday, May 21, 2023, 11am – 4pm  
Location: 5946 S. Center Hwy, Traverse City, MI 49684 (Bingham Township in Leelanau County)
Activities include: Horse-drawn plowing & field work, harnessing demonstrations, rope making, wagon rides, hiking trails, MBPN barn exhibit.
Museums and gift shop: 11am-1pm & 2-4pm
Information: Website, (231) 590-9304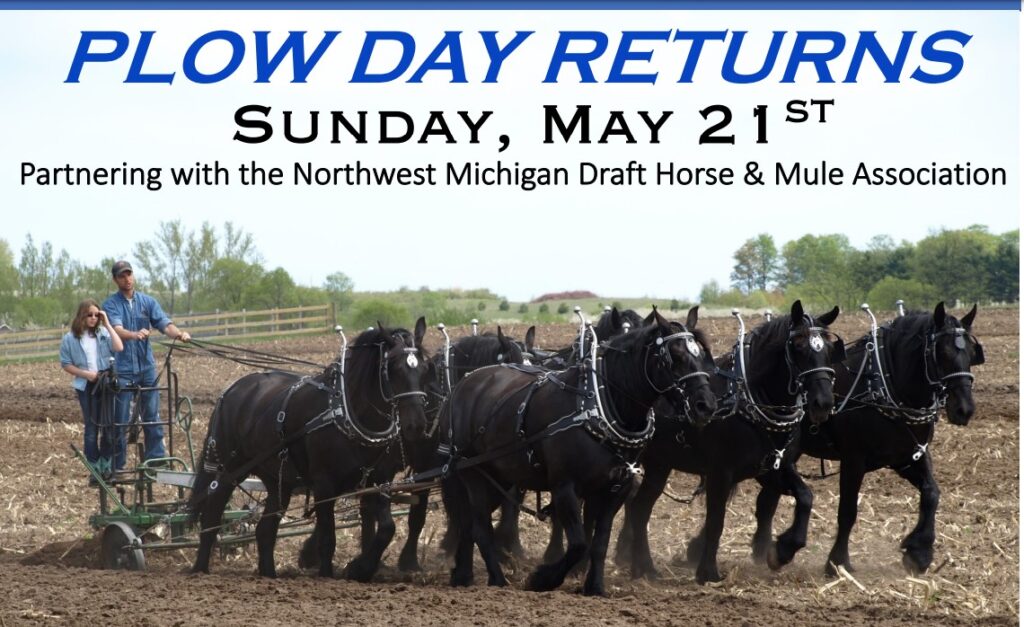 ---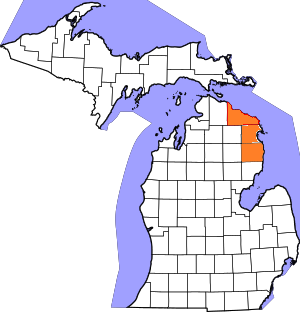 Northeast Michigan Barn Tour
Hosted by Michigan Barn Preservations Network
Date: Saturday, Oct. 15, 2022
Participants on the 2022 Fall Color Barn Tour visited select barns in the Lake Huron counties of Alcona, Alpena and Presque Isle on northern Michigan's east side.
The itinerary featured a variety of barn styles and examples of historical preservation for either agricultural or adaptive use. Highlights included AJ's Berry Farm near Alpena, the historic Elowsky Grist Mill in Posen and in Alcona County, Somer's Barn – a beautiful fieldstone centennial farm and Purple Wild Farm with its round-roof barn and goat herd. See pictures here.
---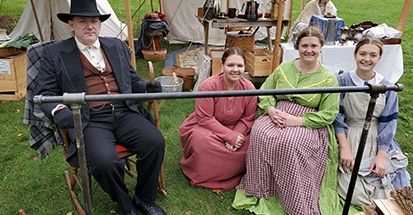 Meridian Heritage Festival
Date: Saturday, Oct. 1, 2022,10AM to 4PM
Location:  Meridian Historical Village located at 5151 Marsh Road, Okemos, MI 48864
MBPN's Teamwork & Timbers model barn was at this free, fun family event in Okemos. The festival featured Civil War reenactors, a vintage baseball game, children's fishing and games, craft demonstrations and food trucks. Visitors also toured the structures in the Meridian Historic Village and viewed exhibits at the Nokomis Native American Cultural Center.
---
Hadley Homestead Harvest Days – Farm Hop and Festival
Date: Saturday, Sept. 16, 2022
Location: Hadley Mill Museum, 3633 S. Hadley Rd, Hadley MI (Lapeer County)

Farm Hop – This tour is designed for families, history buffs and those who simply want to revisit old America. Equipped with a map, guests on this self-guided tour will enjoy an engaging perspective of several area properties integral to farming in this region.
Festival – Art Fair, Music & Food Trucks and More! at Le Fleur Décor, 3442 S. Hadley Road.
Mill Museum at 3633 S. Hadley Rd – Open from 10:00-5:00. Free admission.
---
Michigan County Poor Farms – A Virtual Presentation
Tuesday, Oct. 19, 2021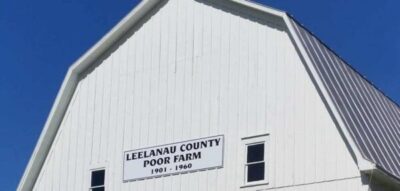 This MBPN 2021 Barn of the Year was restored by the Leelanau County Historic Preservation Society.
Long before the advent of modern social welfare, county governments in Michigan maintained poorhouses or poor farms. These facilities became both self-sustaining entities and refuges for a county's poor, elderly and destitute.
Access the recording on the Library of Michigan YouTube Channel.
---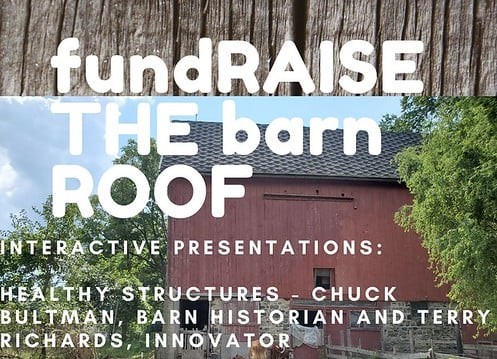 FundRaise the Barn Roof
Sunday, Oct. 17, 2021
The Community Farm of Ann Arbor, at 1525 S Fletcher Rd in Chelsea, hosted a fundraiser to replace the roofs on their historic barns. MBPN member, architect and barn historian Chuck Bultman, along with Terry Richards, presented "Healthy Structures," an interactive talking tour. The festivities included children's activities as well as contra dancing with music by local band "Nutshell" and local dance caller Drake Meadow.
---
Exhibit at Ella Sharp Museum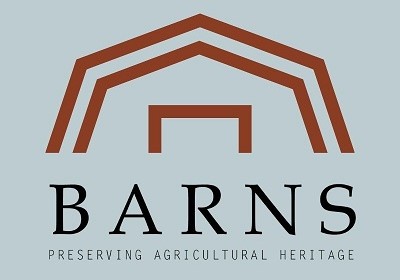 From Dec. 12, 2020 to Sept. 12, 2021, the Ella Sharp Museum in Jackson hosted a special exhibit showcasing the beauty and history of barns as documented by artists, preservationists and multi-generational farmers.
---
Our Wooden Built Heritage: Structural Evaluation of Existing Timber Structures
May 6, 2021 at 1:00 pm

Tom Nehil, of Nehil-Sivak Structural Engineers, presented acceptable practices for evaluating existing structures, and explained why it is necessarily different than design of new timber structures. This webinar sponsored by the Michigan Historic Preservation Network benefitted engineers and investigators directly involved in structural assessments and also owners, architects, and builders wishing to understand the process better and hire the work done well. (Photos courtesy of MHPN and Tom Nehil)
---
Stamp Out Barn Loss!

Virtual Gathering on Barn History and Preservation Trends
In celebration of the U.S. Postal Service's January 24, 2021 issuance of a new set of barn stamps for postcards, the New Hampshire Preservation Alliance held a virtual gathering for barn preservation groups across the country.
It featured a panel of nationally recognized barn experts discussing what old barns mean to our communities, trends in barn preservation and practical ideas for stewardship. An award-winning fiddle player opened and closed the program.
The 36-cent Barn postcard stamps celebrate the beauty and history of American barns. Each stamp reflects one of the four seasons: a round barn surrounded by the hazy light and warm colors of fall; a gambrel-roofed barn in summer; a forebay barn in early spring; and a Western barn on a winter's night. See announcement by USPS.
---

Dec. 10, 2020 at 1:00 pm
The webinar covered a brief history of barns in Michigan, barn terminology and parts, and free to low-cost fixes barn owners can do to help their barn structures. Replay available here.
Presenters: MBPN Technical Committee – Steve Stier, Tammis Donaldson and Stephanie White
Host: Michigan Historic Preservation Society – Mallory Bower
For more information about Barn School Workshops, click here.
---
---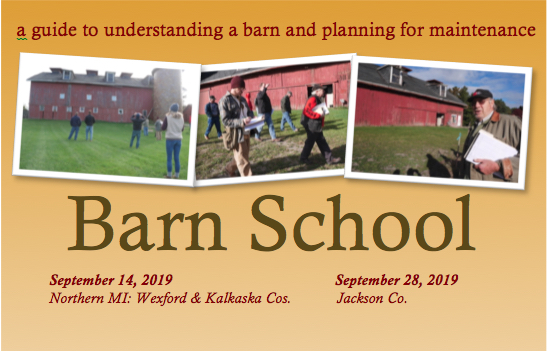 Participants spent a Saturday assessing the condition and stability of a barn to determine its needs. They learned about barn architecture, construction, maintenance and repair approaches.
Sept. 14 in Northern Michigan (Wexford and Kalkaska counties): Workshop included a stone repointing demonstration. Instructors: Steve Stier and Tammis Donaldson.
Sept. 28 in Grass Lake (Jackson County): Projects included closing a gap in the basement foundation wall and adding a support column at a rotted beam connection. Instructors: Tammis Donaldson, Stephanie White and Steve Stier.
To inquire about future Barn School programs, contact: Steve Stier at [email protected].
---
Click here for Teamwork & Timbers schedule at local festivals and events.
---
---