Upcoming Events
Webinar presented by Michigan Historic Preservation Network…

May 6, 2021 at 1:00 pm ET
Timber structures, from barns to old industrial facilities, are often at risk of being lost because of perceived limits to the future strength of the timbers through deterioration or adaptive use needs.
Tom Nehil, of Nehil-Sivak Structural Engineers, will present key information from the 2019 Guide to the Structural Evaluation of Existing Timber Structures, created by the Timber Framers Guild. He will lay out an acceptable practice for evaluating existing structures, and explain why it is necessarily different than design of new timber structures.
This session will benefit engineers and investigators directly involved in structural assessments and also owners, architects, and builders wishing to understand the process better and hire the work done well.
(Photos courtesy of MHPN and Tom Nehil)
On exhibit through July 25, 2021
Ella Sharp Museum, 3225 4th Street, Jackson, MI 49203
Hours: Wed-Sat 10 am – 5 pm; Sun 12-5 pm
Through artwork, historical preservation, and multi-generational farmers, "Barns" is an exhibition that highlights the unique beauty and history of our lands agricultural icons. Visit Museum's website.
---
Past Events

Raising the Roof on Michigan's Barn Heritage
Tuesday, Jan. 5, 2021, Noon to 1 pm
Live-stream lecture by Jim Mulvaney, Barn Historian and Michigan Barn Preservation Network Board Member
History Hounds® Lecture Series hosted by the Historical Society of Michigan (HSM)
---

Dec. 10, 2020 at 1:00 pm
The webinar covered a brief history of barns in Michigan, barn terminology and parts, and free to low-cost fixes barn owners can do to help their barn structures. Replay available here.
Presenters: MBPN Technical Committee – Steve Stier, Tammis Donaldson and Stephanie White
Host: Michigan Historic Preservation Society – Mallory Bower
For more information about Barn School Workshops, click here.
---
Sleeping Bear Dunes Barn Workshop
June 15 – 19, 2020
The workshop scheduled for 2020 was cancelled. Awaiting word about whether there will be a session in 2021.
We return again to the Miller Barn at Port Oneida to complete the additional timber floor beams and framing that we discovered while repairing the main threshing floor. There is still work to do to repair the deteriorated loft floor as well above the milking parlor. Work will also include repairing the animal stalls, and wood window and door repairs will also be on the agenda as well.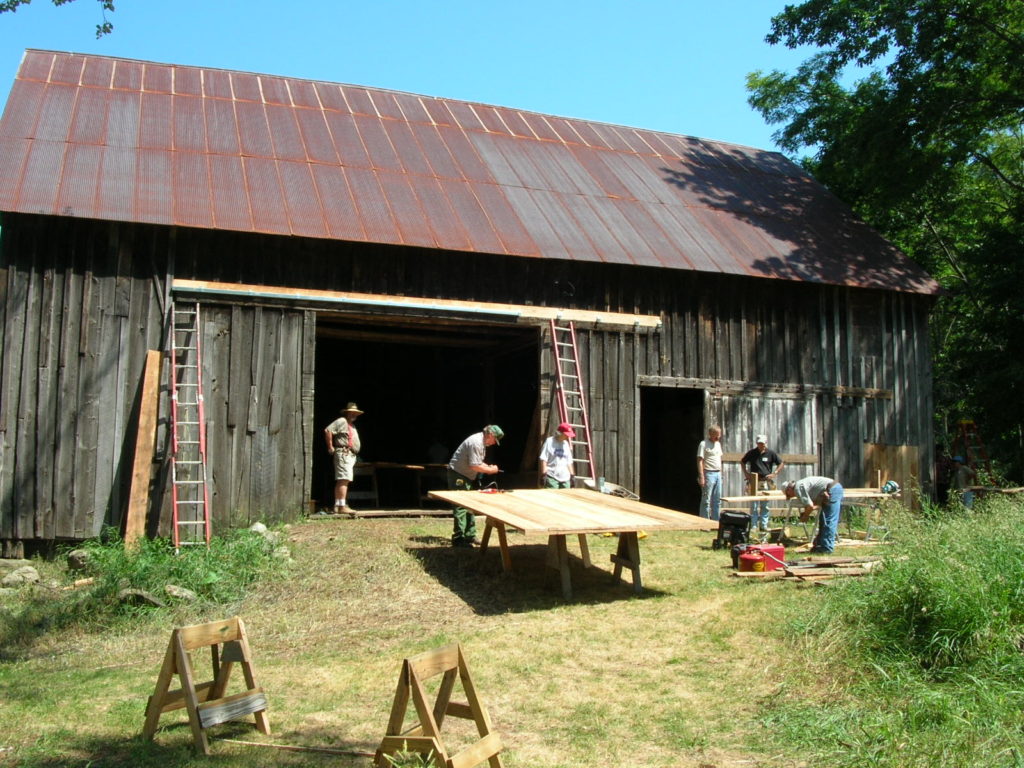 We will again offer camping on site at Miller Barn. Thank you to those who did so in 2019, and made some suggestions for 2020; those suggestions are in the works as well.
The park campgrounds are available as an online reservation that you must make yourself and pay for in advance starting no earlier than 6 months prior to the first day you intend to camp. Please go to recreation.gov to make and pay for those reservations on your own. Once you attend the barn workshop, the camping fees will be reimbursed to you.
Click here for the registration form. For more information, contact Kimberly Mann at Sleeping Bear Dunes Nationl Lakeshore: kimberly_mann@nps.org.
---
Saturday, Feb. 29, 2020
The 2020 MBPN Annual Conference was held at Kellogg Center in East Lansing. Program Recap
---

In 2021 the Northern Michigan Small Farm Conference was held Feb. 17 – 21 as a virtual event. The Michigan Barn Preservation Network was an exhibitor at the Jan. 24-25, 2020 conference held at the Grand Traverse Resort in Acme.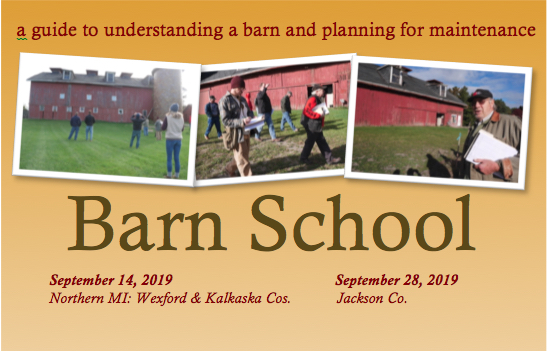 Participants spent a Saturday assessing the condition and stability of a barn to determine its needs. They learned about barn architecture, construction, maintenance and repair approaches.
Sept. 14 in Northern Michigan (Wexford and Kalkaska counties): Workshop included a stone repointing demonstration. Instructors: Steve Stier and Tammis Donaldson.
Sept. 28 in Grass Lake (Jackson County): Projects included closing a gap in the basement foundation wall and adding a support column at a rotted beam connection. Instructors: Tammis Donaldson, Stephanie White and Steve Stier.
To inquire about future Barn School programs, contact: Steve Stier at stephenstier@gmail.com.
---
Romeo Barn Tour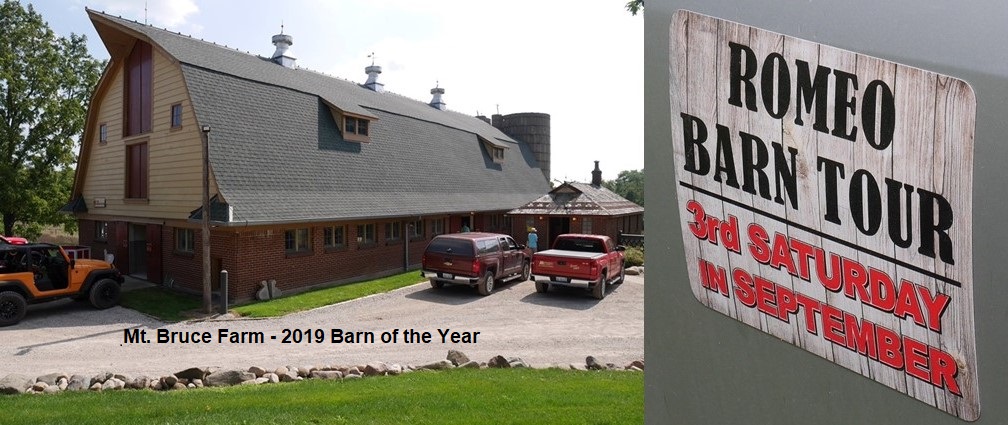 Sept. 21, 2019
The Romeo Historical Society sponsors an annual barn tour on the third Saturday in September. One of the seven featured barns in 2019 was a Michigan Barn Preservation Network "Barn of the Year" awardee. Mt. Bruce Farm, on Bordman Rd in Bruce Township, received the honor in 2019 for the owner's stewardship and preservation effort to maintain the barn's condition and outstanding character.
---
Click here for Teamwork & Timbers schedule at local festivals and events.