---
Want a Self-Driving, Anytime Barn Tour?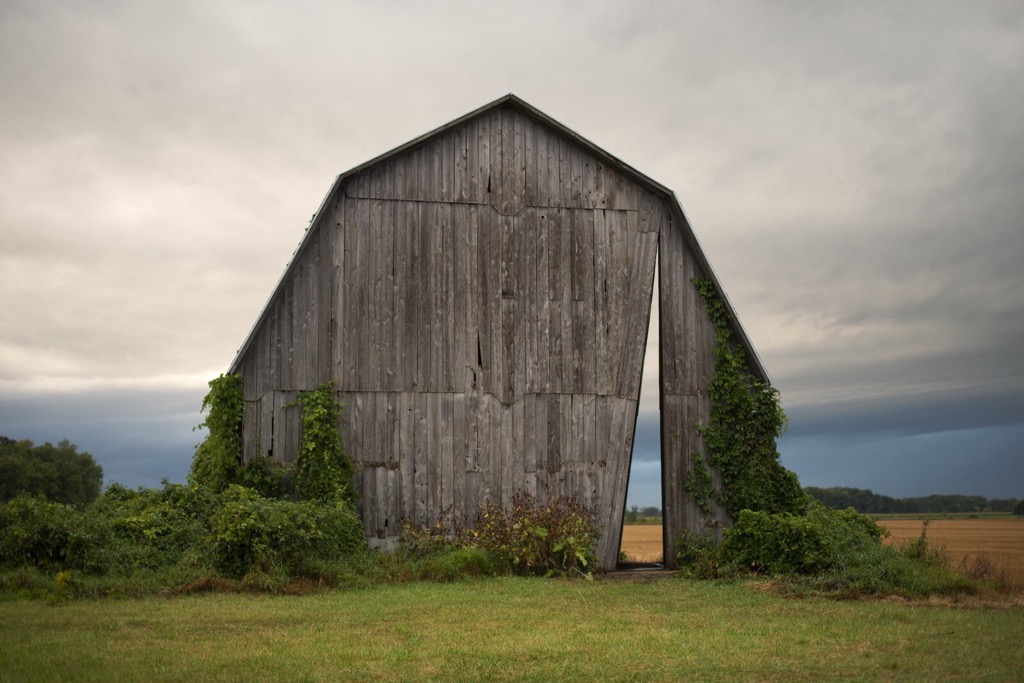 The Thumb Drive-by Barn Tour in Tuscola and Huron counties is an option if you want to explore on your own. The itinerary includes farms, markets and local history museums in Gagetown, Caseville, Port Austin, Bad Axe, Harbor Beach and Port Hope.
You'll see the Port Austin art barn installations (Pictured: Secret Sky by artist Catie Newell) and quilt art barns.
---
Touring Restored Barns
Want to travel the countryside and see Michigan barns up close? Join up with the Michigan Barn Preservation Network for a day of touring with fellow barn enthusiasts and visit with owners at the featured sites.
You'll learn about barn styles and architecture, timber framing and other traditional construction methods as we explore the current use of old barns and the potential for saving or repurposing old structures.
And if you are wondering how to fix up your barn, you can get plenty of ideas on our barn tours. Many old barns have the same problem areas and you can talk to builders, preservationists and barn owners who have solved these problems.
MBPN membership gives you priority registration for barn bus tours.
---
PAST TOURS
2023: MBPN Fall Barn "Plus" Bus Tour

The 2023 fall bus tour in Clare and N. Isabella counties on Oct. 3 included a visit to a rural manufacturing facility, two event venues, a Barn of the Year winner, and two barn sites in various stages of restoration. Participants who arrived the day before enjoyed a traditional Amish dinner at an area farm.
The day started at Lifetime Metal Sales, where the management gave a tour and explained the benefits of using metal siding and roof panels for barn construction.
Tobacco Ranch Event Venue
Location: Clare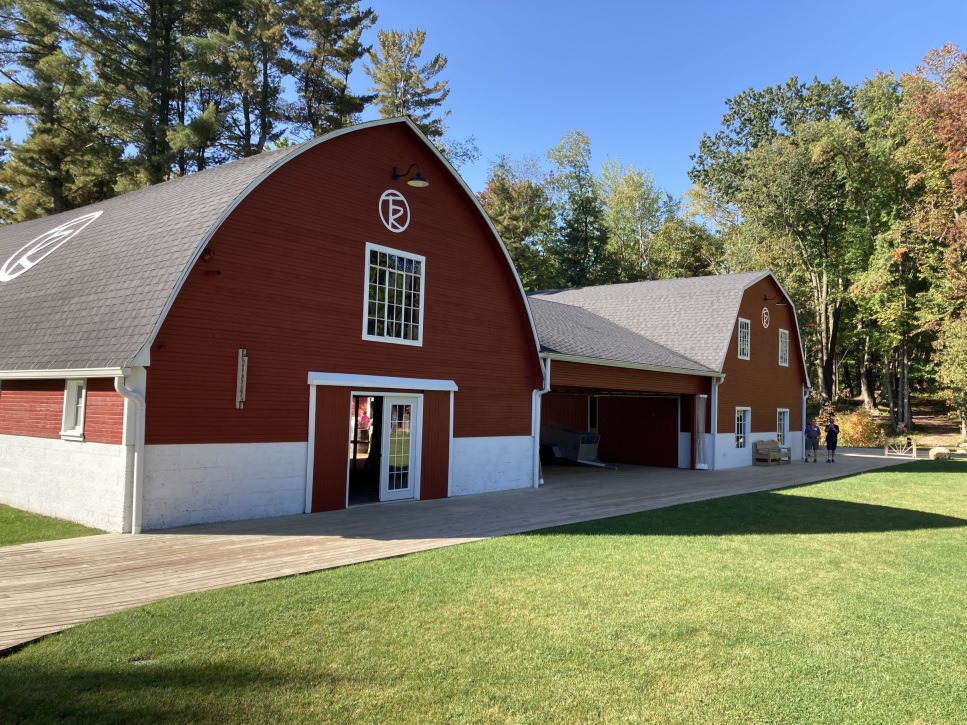 Jim Paetschow is the owner of this event facility located on 80 acres bordering the Tobacco River in Clare. Much of the ranch was built about 100 years ago. It currently features two renovated, lofted barns with heat, AC and a kitchen.
The mid-Michigan oil boom of the early 20th century brought with it organized crime. To flee some troubles in New York, Isaiah Leebove, an attorney with ties to the Purple Gang, settled in Clare in the 1930s and built the house at Tobacco Ranch. He was gunned down at the Doherty Hotel in 1938 by Carl "Jack" Livingston, his business partner and Purple Gang associate, in a dispute about real estate. See history.
---
White Barn Venue
Location: Clare
On Saginaw Road (Old US 10), this curved-rafter barn was built in 1944 by Mr. Randall, a local barn builder. Finding steel for the roof was problematic at the time, since WWWI was in full force, but the project continued.
Owners Ron and Doris Chapman used the barn for dairy cows and in the early 1950s hauled a piano to the haymow floor for community parties. After sitting vacant for a while, the barn was purchased in 2017 by Tony Eberhardt, who intended to store large round bales of hay in it. He tore out the haymow floor and poured a new concrete floor on the first level. Then it was suggested the space would make a good venue for weddings, family reunions and other gatherings. Tony pursued the idea of an event barn and made renovations to meet the codes for public use.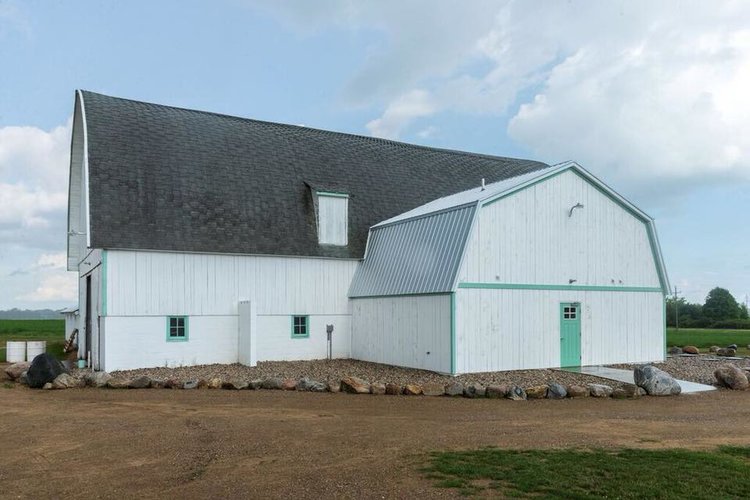 ---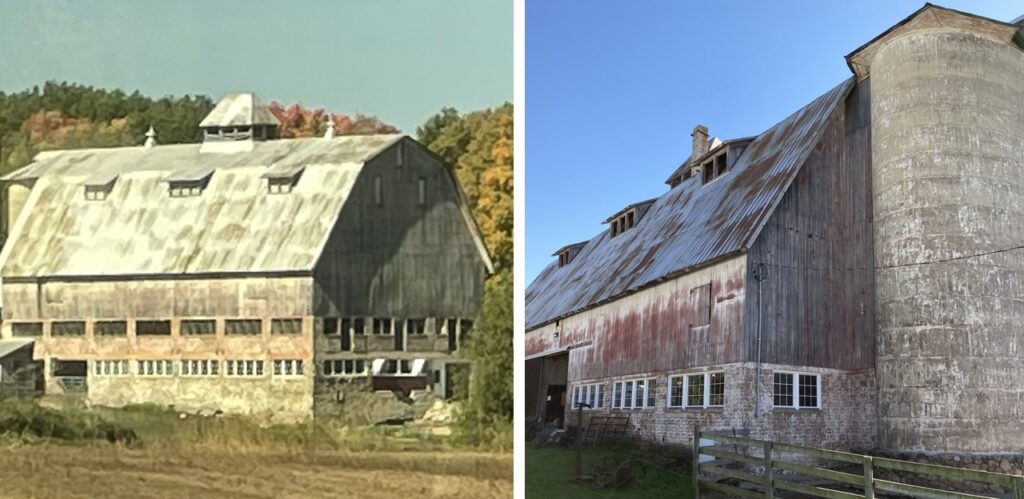 Parsons Barn
Location: Vernon Twp (Isabella County)
At one time this farm boasted a horse barn, a pig barn, sheep barn and a dairy barn. There were houses for the workers and another barn for them to use. Windmills pumped water, and a cistern on the back side of the barn held rainwater.
Among several early owners, W.E. Currie, a bridge contractor, was the most significant. He purchased the farm in 1886 and built the huge barn in 1914 and 1915, although other structures existed earlier. The 110-foot-long barn and its elliptical silo are very unusual.
Since 1979 the farm has been in the Parsons family.  Harold and Grace Parsons purchased it in 1979. Their son Jim is the current owner. He and his son use the barn to store construction supplies and to house a few beef cattle.
---
O'Grady Barn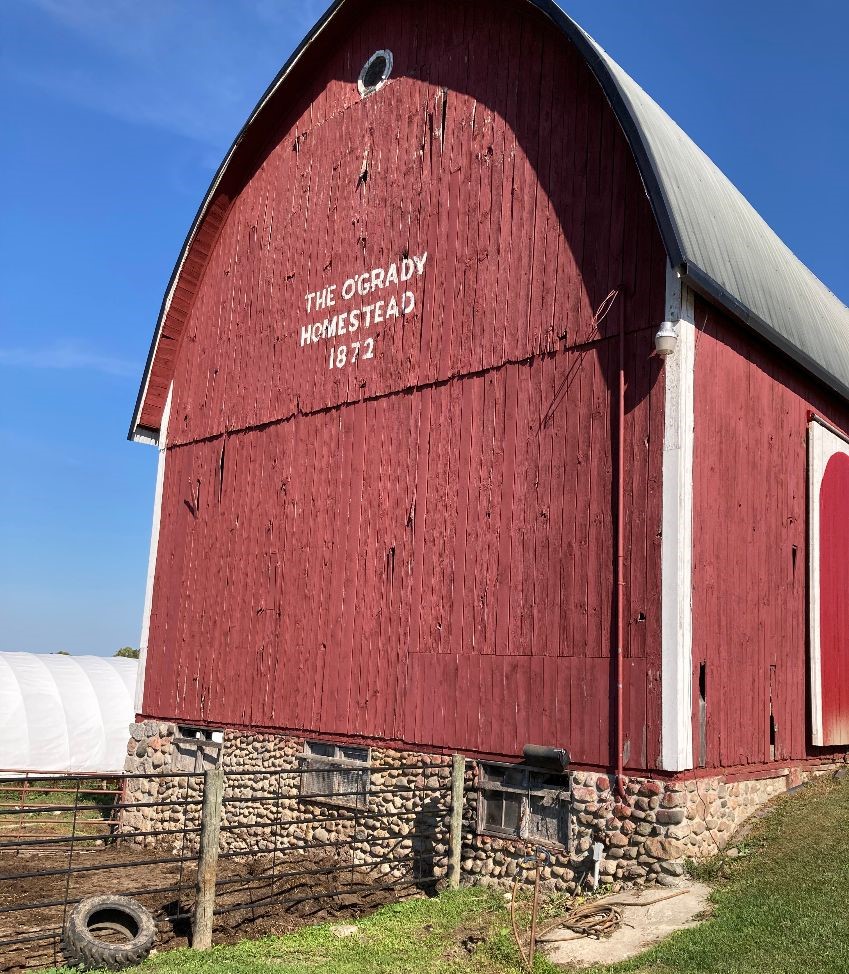 Location: Vernon Twp (Isabella County)
Originally from County Clare, Ireland, the O'Gradys immigrated to the US about 1864 after spending a few years in Canada. John and Honora O'Grady homesteaded 180 acres in Vernon Township, Isabella County about 1867. Their first five children were born in their log house, and the youngest was born in the wood-frame house built in 1891. The barn was originally north of the house but was moved by James Leo O'Grady, son of John and Honora. It has six stanchions and two box stalls on the north side and 16 stanchions across the south side.
In 2012, the Dale Brubacker family bought the farm from Ruth Jones, daughter of Leo O'Grady. She had the foundation repaired in 1989 and interior roof work done in 2005. The Brubackers are continuing the restoration of this curved-rafter barn.
---

Concordia Hills Barn
Location: Farwell (Isabella County)
Built in 1884, the barn immediately captures your attention with the weathered patina of its original exterior sheathing and its dressed field stone foundation. It's been connected to one family for nearly all of its 140-year history. Jim and Michelle Thompson acquired ownership from her family in 2015. In addition to storing hay from the farm, they currently make the barn available for family and community gatherings during the fall apple cider season and the spring maple syrup season.
Named Barn of the Year in 2021 in the Continuing Agricultural Use – Family category, this L-shaped, English-style bank barn is surrounded by hills and marshlands that were created for wildlife. The fieldstone foundation, hand-hewn timbers and small-diameter log rafters speak to its age and various uses over the years. The larger portion has three bays, while the smaller portion has two bays. Rehabilitation efforts have included replacing the wood shingles with galvanized steel, replacing doors throughout, and making extensive repairs to the fieldstone foundation.

---
---
2022: Northeast Michigan – A Visit to the "Other Up North"
Alpena was the starting point for our all-day bus barn and fall color tour on Saturday, Oct. 15, 2022 in Alcona, Alpena and Presque Isle counties bordering Lake Huron on the east side of northern Michigan.
The itinerary featured seven barns representing different styles and examples of historical preservation for either agricultural or adaptive uses. Highlights included stops at AJ's Berry Farm, the Elowsky Grist Mill, Somers Centennial Farm and Purple Wild Goat Farm (pictured below).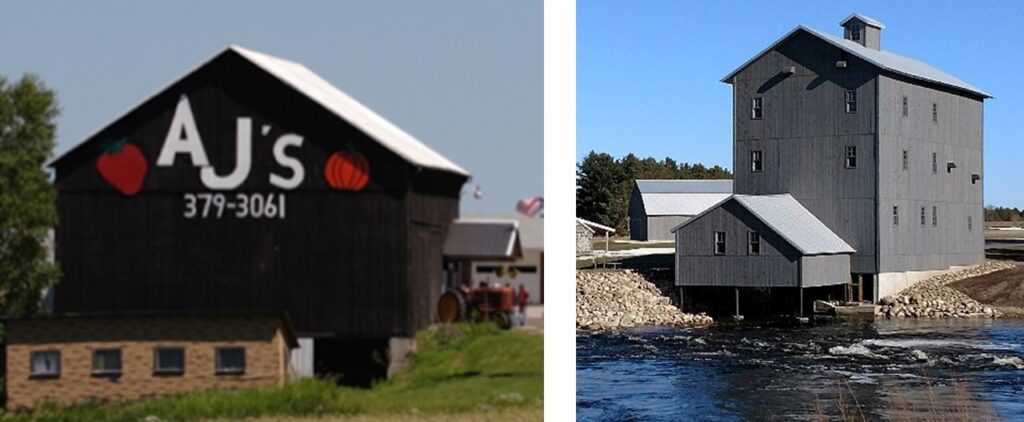 AJ's Berry Farm, 15 miles west of Alpena on M-32, is a popular U-pick site and pre-picked farm market for seasonal fruits and vegetables as well as maple syrup, jams and baked goods. Autumn activities include the corn maze, pumpkin launch and hayrides.
Elowsky Grist Mill, just south of Posen in Presque Isle County, is on the property of Hemlock Hills at Mill Pond event venue. Inside, you'll see 150 years of grist milling history, with generations of equipment used to convert the grain grown on local farmland into flour.

Somers Barn has a striking fieldstone silo and barn foundation that supports a typical timber frame barn. An abundance of nearby fieldstone has resulted in many impressive structures in the area. This Michigan Centennial Farm is a showplace on the Alcona County Quilt Barn Trail.
Purple Wild Farm, also in Alcona County, has a round-roof barn. It is owned by Barb Halazon and Marge Coppone, who raise Nubian goats and Highland cattle. Roger Bateson of MJ's Complete Barn Service will describe his repair work on the roof and how they saved this barn.
See all seven barns on 2022 Tour.
---
Other Previous Tours
2021 – Hadley Farm Hop (Self-driving tour on Sept. 25 hosted by Hadley Historical Society)
2020 and Beyond – Fall Color Tour in Michigan's Thumb (This anytime, self-driving tour with the Map-N-Tour app as your guide features 12 rural sites — working, quilt and art barns as well as museums and a farmers market. Get the Map-N-Tour app free from Google Play or the App Store.)
2019 – Spring Barn Tour in Washtenaw County (Ann Arbor-based bus tour)
2018 – Spring Barn Tour in Mid-Michigan (Bus tour in Clinton and Ionia Counties)