The Barn of the Year program honors Michigan barns that exemplify outstanding character and preservation efforts.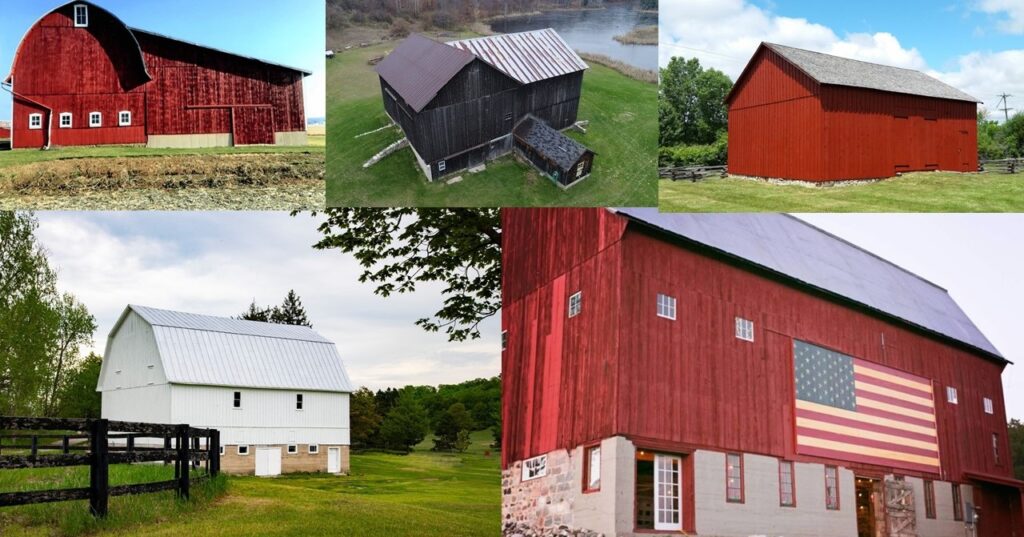 ---
Nominations for 2022 are open to the public…
Here's How to Enter Your Barn
Applications are being accepted through Jan. 31, 2022. To be eligible, the barn must be in-use, either for continued agricultural use or adapted for other uses. Barns must retain their overall appearance — both in their interior and exterior barn characteristics.
Categories:
Award categories cover barns that continue to be used for agriculture and those that are adapted for other uses and whether the barn is family-owned or the project of a non-profit or commercial entity.
Continuing Agricultural Use – Family (Private), Non-Profit or Commercial
Adapted to Other Uses – Family (Private), Non-Profit or Commercial
Evaluation
Nominated barns are judged on (1) completeness of information presented in the application, (2) sensitivity and integrity of repairs or modifications, (3) visual appeal, (4) creativity, (5) thoroughness of work and (6) effort expended to repair and maintain.
Application Componets:
Four items are required for the submission:
Submissions for 2022 will be accepted for 90 days beginning Nov. 1, 2021 and ending Jan. 31, 2022. Click here for 2022 application form.
For questions, contact the program chairman, Keith Anderson. E-mail: klanderson42@gmail.com or Mobile: 616-540-6701.
---
Current and Past Awardees
Over the past quarter century, a total of 95 barns from across Michigan have been recognized for their unique qualities and/or preservation efforts.
2021 Winners
Five barns have been selected to receive recognition as Barn of the Year for 2021. Click on the barn name for more information.
Location: Farwell, MI in Isabella County
Owner: Jeffrey & Michelle Thompson
Category: Family—Continuing Agriculture
Built: 1884 (date carved on SW gable end)
Most unusual feature: Never-painted siding
Current use: Storage of hay from working fields; future plans for "agritainment" – fall apple cider and spring maple syrup.
Location: Palmyra, MI in Lenawee County
Owners: Tom & Kathy Eisenmann
Category: Family—Adapted to Other Uses
Built: Circa 1850-60
Most unusual feature: Roof
Current use: Party barn; "man cave" with regular and antique tools/equipment; tractor storage.
Location: Pellston, MI in Emmet County
Owners: Tonya & Gus Boening
Category: Family—Adapted to Other Uses
Built: Late 1800s to early 1900s
Most unique feature: American flag added to S. exterior.
Current use: Special events and storage
Location: Maple City, MI in Leelanau County
Owner/Applicant: Leelanau County/Save the Poor Farm Barn, a project of the Leelanau Co. Historic Preservation Society
Category: Non-Profit—Adapted to Other Uses
Built: 1911
Most unique features: Early use of poured concrete, shawver truss system
Current use: Part of Myles Kimmerly County Park
Location: Plymouth, MI in Washtenaw County
Owner: Salem Area Historical Society
Category: Non-Profit—Adapted to Other Uses
Built: 1830
Most unique feature: Oldest timber frame barn in Washtenaw County
Current use: Local history education in Jarvis Stone School Historic District
Click here for in-depth 2021 winner profiles.
Great Michigan Barns
These six "runner-up" barns in this year's competition are deserving of recognition for their unique characteristics and history:
Trails End Barn (Kalkaska)
Applegate Barn (Grand Blanc)
DeYoung Barn (Hudsonville)
Lazy J Ranch Barn (Milford)
Hattie & Emmet McCrumb Barn (Portland)
Valdez Barn (Ann Arbor)
The preservation stories of these designated "Great Michigan Barns" will be featured in the MBPN Newsletter. Board members will personally deliver framed Certificates of Appreciation to the owners. (See a photo of the honored barn on each award plaque.)
Past Winners
Click here for database of Barn of the Year winners from 1997 to 2016. Also see showcase of winners from 2017, 2018, 2019, 2020 and 2021.