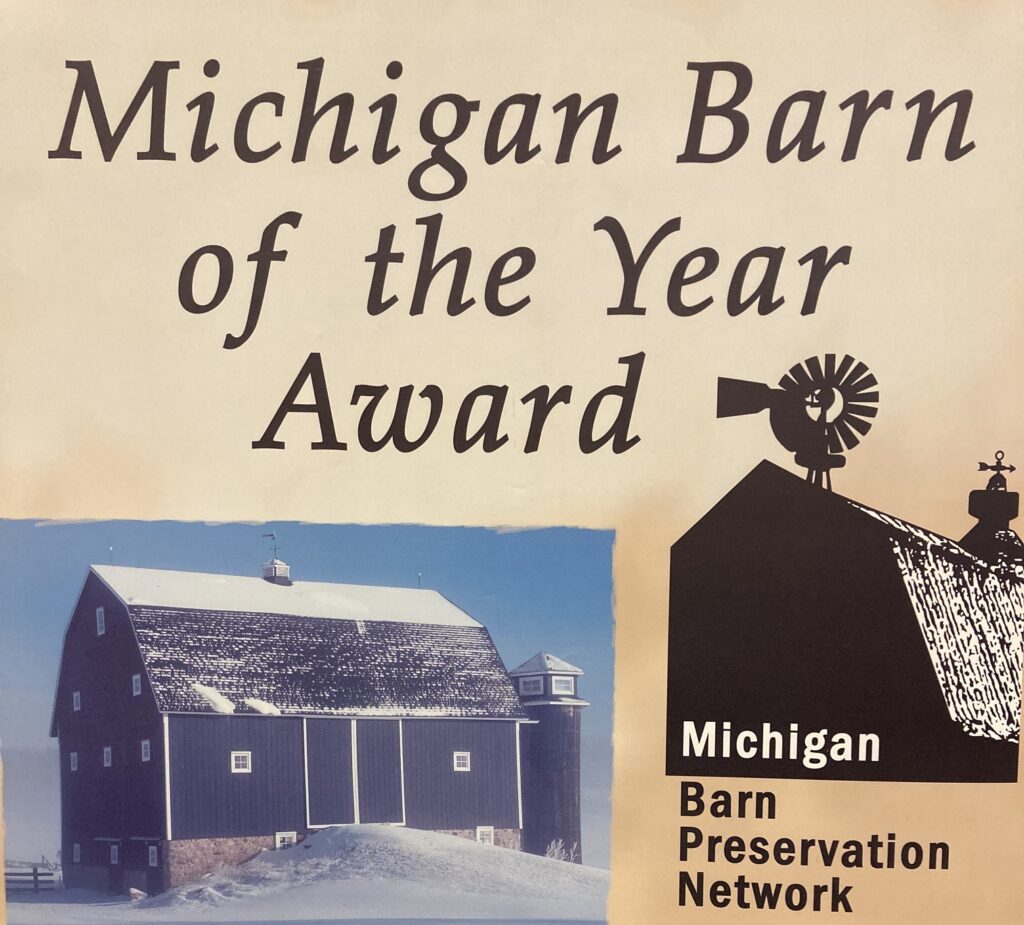 Awards to be presented at Annual Conference on March 4, 2023
The Michigan Barn Preservation Network is now evaluating applications submitted for the 2023 Barn of the Year Awards. The three-month period for nominations ended Jan. 15, 2023.
The Barn of the Year Program annually honors barns that support our ongoing mission to preserve Michigan's agricultural heritage exemplified by its barns. The awards recognize barn owners who have made the extra effort to maintain or restore historic barns.
In the past 27 years of the award's existence, 101 Michigan barns have been recognized for their unique qualities and/or preservation efforts. The search is on for the "Second One Hundred."
---
Here's How to Enter Your Barn
To be eligible, the barn must be in-use, either for continued agricultural purposes or adapted for other uses. Barns must retain their overall appearance — both in their interior and exterior barn characteristics.
Categories:
Award categories cover barns that continue to be used for agriculture and those that are adapted for other uses and whether the barn is family-owned or the project of a non-profit or commercial entity.
Continuing Agricultural Use – Family (Private), Non-Profit or Commercial
Adapted to Other Uses – Family (Private), Non-Profit or Commercial
Evaluation
Nominated barns are judged on (1) completeness of information presented in the application, (2) sensitivity and integrity of repairs or modifications, (3) visual appeal, (4) creativity, (5) thoroughness of work and (6) effort expended to repair and maintain.
Application Components:
Four items are required for the submission:
Nominations for Barn of Year 2023 are now closed. The three-month window for submitting applications will open in the fall.
Click here for sample application.
Application materials may be scanned and e-mailed to: klanderson42@gmail.com or via a thumb drive mailed to:
MBPN Barn of Year Committee
11530 Peach Ridge Ave.
Sparta, MI 49345
For questions, contact the program chairman, Keith Anderson. E-mail: klanderson42@gmail.com or Mobile: 616-540-6701.
---
2022 Barn Winners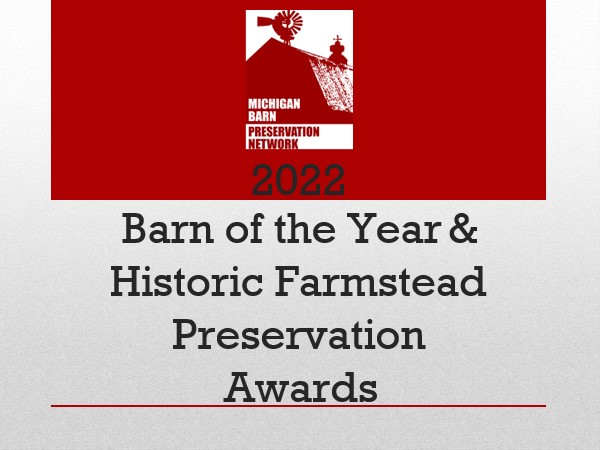 See pages 4 – 6 in the Spring 2022 Newsletter for stories about the winning barns.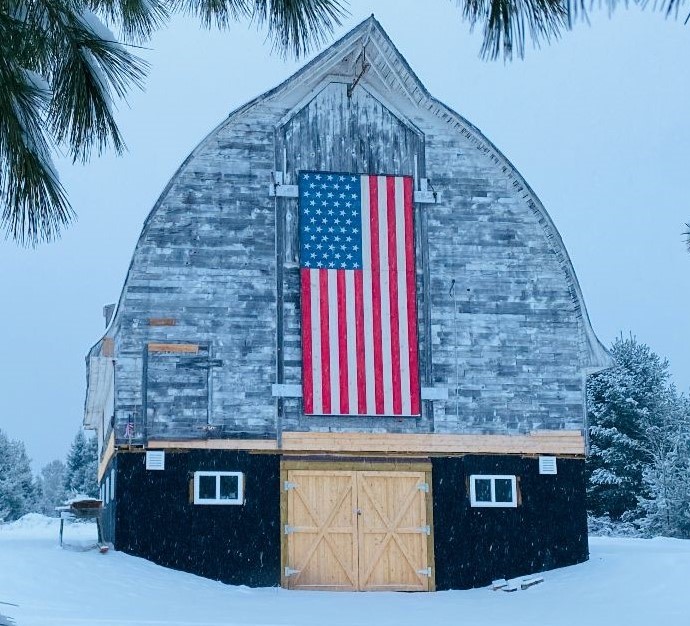 American Boy Farms
Location: Cheboygan, MI (Cheboygan County)
Owners: Toni & Josh Johnson
Contractor: Perry Neuman
Distinguishing Features: Gothic-style with a unique arched roof formed by trusses made from 1"x4"s; iconic flag.
Year Built: Early 1940s
Category: Continuing Agriculture – Family
Use: Preserved and moved to new site for 5th and 6th generation
---
Weisberg Barn
Location: Milford, MI (Oakland County)
Owners: Matthew & Joan Weisberg
Restorer: JDS Historical (Dean Sutton)
Year Built: 1870s
Distinguishing Features: Cupola and "barn red" paint
Category: Adaptive Reuse – Family
New Use: Hangout for family & friends, exercising/workout space and storage.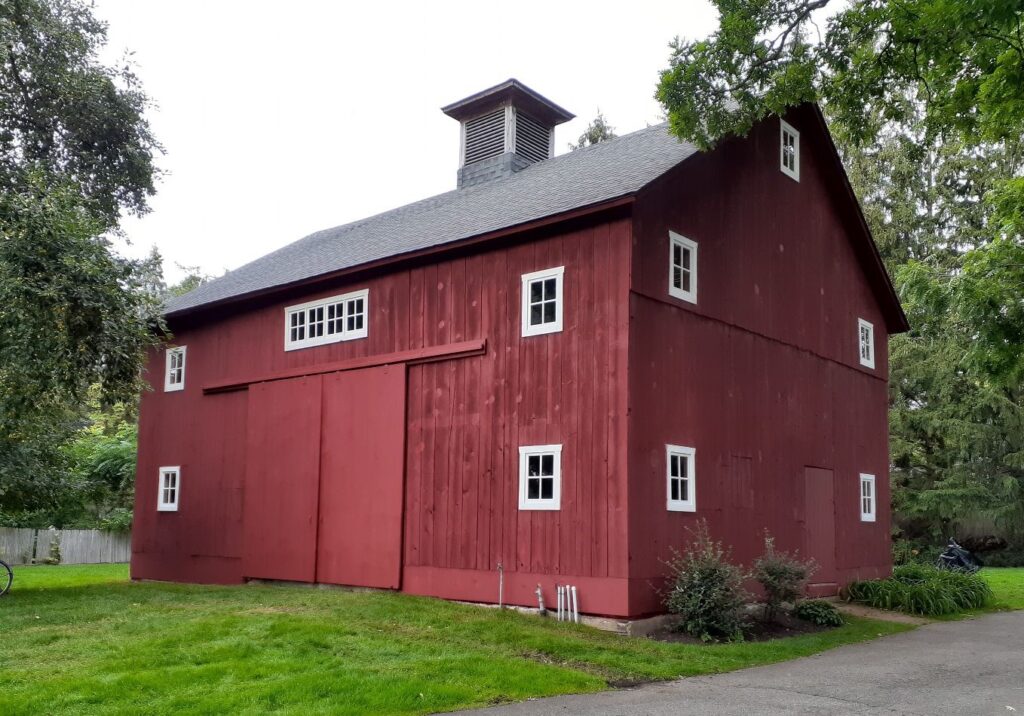 ---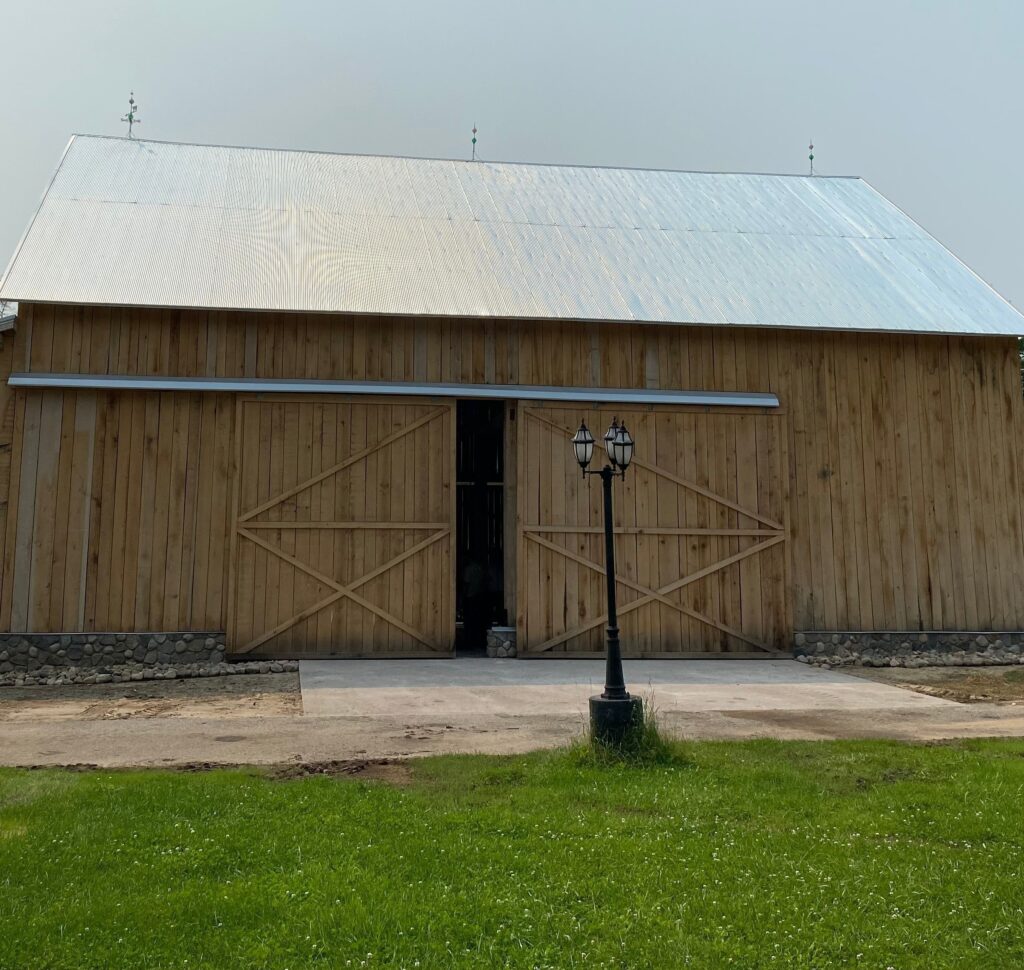 Griffin Barn
Location: West Branch, MI at Ogemaw County Fairgrounds
Owner: Ogemaw County
Donor/Applicant: Family of Bob Griffin by his son Bob Griffin, Jr.
Year Built: Early 1900s
Distinguishing Features: 60' x 40' gable-roofed bank barn with hand-hewn beams
Category: Adaptive Reuse – Non-Profit
New Use: Community building in antique village at fairgrounds
---
The Olde Stone Porch Barn
Location: Ionia, MI (Ionia County)
Owners: Conley Family – Warren, Sharon and Kiel
Year Built: Two phases – 1850s and 1880s
Distinguishing Features: Gable-roofed barn on farmstead with unique brick and granite stone house
Category: Adaptive Reuse – Commercial
New Use: Wedding & event venue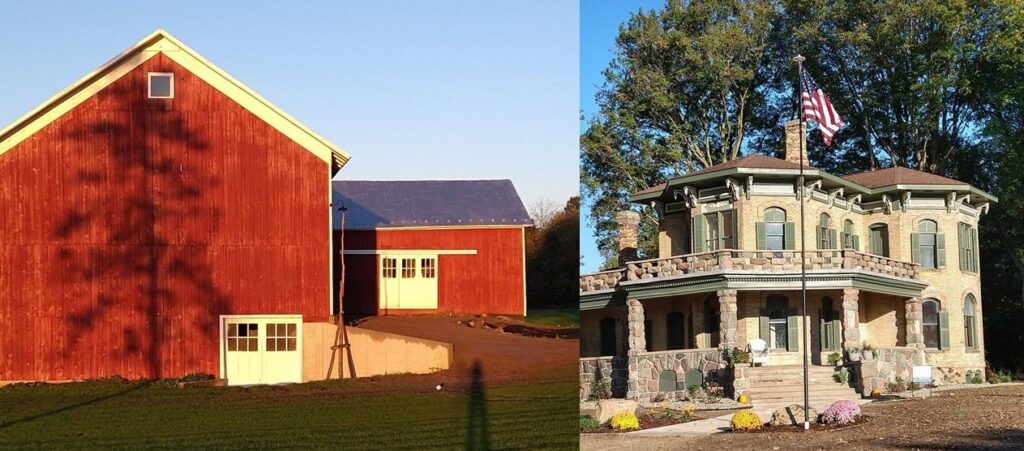 ---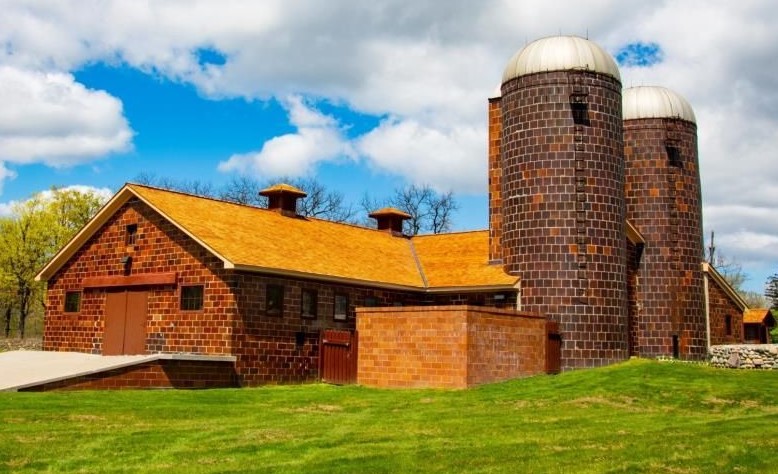 Rochester Hills Museum at
Van Hoosen Farm
Location: Rochester Hills, MI (Oakland County)
Owner: City of Rochester Hills
Applicant: Patrick McKay, Museum Manager
Year Built: 1927 for Dairy Operations
Distinguishing Features: Glazed block exterior of barn and 2 silos
Category: Farmstead Adaptive Reuse – Non-Profit
Use: Local history museum complex with other preserved barns and milk house. Wedding venue and event rental.
---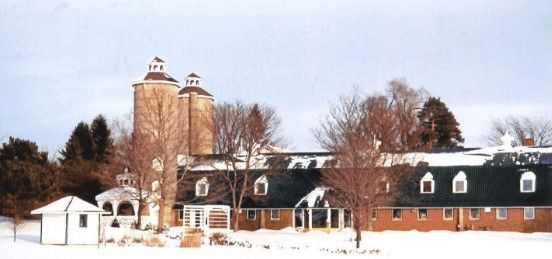 Maxwell Farms
Location: Washington, MI (Macomb County)
Owners: Dr. Case & Peg Hoonhout
Year Built: 1930s for Grade A dairy operations
Distinguishing Features: Farmstead with main residence, several barns, carriage house, farm hand house, milk house and shop, all restored by the Hoonhout family over 40 year period.
Category: Farmstead Adaptive Reuse – Commercial and Family
Use: Stony Creek Veterinary Hospital and owner's residence
---
Past Awardees
A total of 101 barns from across Michigan have been recognized for their unique qualities and/or preservation efforts since the award program began more than a quarter century ago.
Click here for database of Barn of the Year winners from 1997 to 2016. Also see showcase of winners from 2017, 2018, 2019, 2020 and 2021.
---