Barn of the Year Award for Adaptive Use – Nonprofit
Sears & Roebuck 'Kit' Barn:
College decides to preserve, not tear down early 1900s barn
Like many farm buildings erected between 1911 and 1932, the barn at Henry Gierok's farm in Avon Township (Rochester Hills), was ordered from a Sears & Roebuck catalog. The kit for a modern bank barn with trussed roof construction came with the wood boards already cut and fitted, as well as everything else that was needed — building plans; nuts, bolts, screws and nails; oxide red paint for two coats and white window trim.
When Rochester University acquired 54 acres of the Gierok property in 1964, the farmstead was mostly intact. The barn had been fairly well taken care of throughout its history, with the last extensive restoration in the early 1990s. But by 2018, it had fallen into disrepair with several catastrophic structural failures and a severely degraded roof.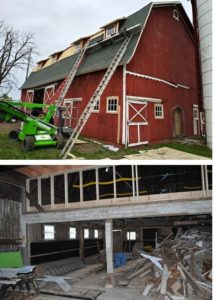 Rochester University had need for a new maintenance facility and considered preserving the old barn  instead of constructing a new building. While some traditional contractors recommended demolishing the unusual barn, Dean Sutton of JDH Historical proposed a plan for restoring it without any major changes.
Restoration work by Dean Sutton and his crew centered on:
– Repairing severe structural failures.
– Rebuilding some trusses,
– Restoring siding, roof deck and trim
– Rebuilding dormers
– Stripping, re-sheeting and installing new asphalt shingle roof
– Building new doors
– Finishing with barn red paint and trim
– Replacing concrete floor.
By restoring the barn, Rochester University maintained the history and structure of the farm and created a useable building fitted to today's needs.
#  #  #
---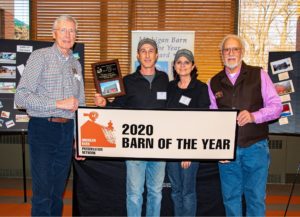 Barn restoration specialist Dean Sutton of JDS Historical and his wife Lori accept the award on behalf of Rochester University, home of the Gierok Barn.
They are surrounded by Keith Anderson, Barn of the Year award chair (L) and Tom Irrer, MBPN president (R).