The 2020 MBPN Annual Conference was held at Kellogg Center in East Lansing on Feb. 29 as part of MSU's Agriculture and Natural Resources Week.Program Recap
Barns are fixed up for special reasons, adapted for new uses, and are copied to create special places. This year's conference not only highlighted outstanding preservation efforts, but also showcased barn projects that are spurring the growth of agritourism through artistry, agricultural and rural heritage, and family pride.
Keynote: Old Barns as Art – Port Austin's Plan for Cultural Tourism

Carl Osentoski, executive director of the Huron County Economic Development Corporation, discussed the potential for arts and culture tourism in small towns and rural areas. Port Austin, at the tip of Michigan's Thumb Area, launched a barn art project in which artists from Detroit reconceived three barns through environmental adaptation, sculpture and mural art. These art installations shed new light on adaptive reuse possibilities for old barns and present a creative way to preserve a piece of local history. (Scroll down to see Under the Radar video about the Port Austin barns.)
Photos 1 & 2: "Secret Sky" by artist/architect Catie Newell debuted in 2019 and has received national acclaim.
Photo 3: Barn boat sculpture by Scott Hocking entitled "Emergency Ark."
Photo 4: Pigeon mural (34-ft high) painted by Steve and Dorota Coy, who call themselves the Hygienic Dress League. 
Barn Quilt Trails – A Celebration of Agricultural Heritage
Quilt blocks on barns have been popping up across rural America, supporting agritourism and drawing attention to family and rural heritage. MBPN board member Julie Avery showcased the barn quilt movement in Michigan, which includes trails in 28 counties. She filled in for scheduled speaker Cathy McCune, co-founder of the Gratiot County Barn Quilt Trail, whose family farm is pictured here.
Hex Signs – Magic Symbols or Pure Decor?
Storyteller Jim Mulvaney presented the history of Pennsylvania Dutch hex signs and the possible meaning of their images and colors.
Swiss-German immigrants weren't the only ones adorning their barns with these symbols. Irish settlers infused their traditions too, as seen in the shamrock surrounded by two goldfinches for a double measure of good luck, the red heart for love, and the trinity tulips for faith, hope and charity.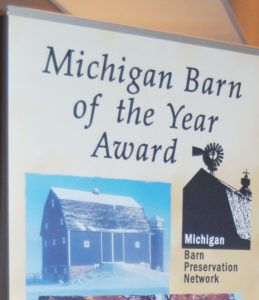 After lunch, Williamston auctioneer Chuck Chestnut conducted a live auction resulting in the sale of dozens of items to benefit MBPN.
Keith Anderson, Awards chair, presented the Barn of the Year Awards to recognize preservation efforts and honor Michigan barns that exemplify outstanding character. This year six barns received the top honor and 10 others also were recognized for outstanding work. This year's entries revealed fascinating stories of tradition, family, determination, rugged work ethic, diversity and love.
Click here to see the six winners.
Afternoon speakers shared the journey of restoration and building projects — the hard work, but resulting rewards.
"Someday Farm" – Reimagining What Our Barn Could Be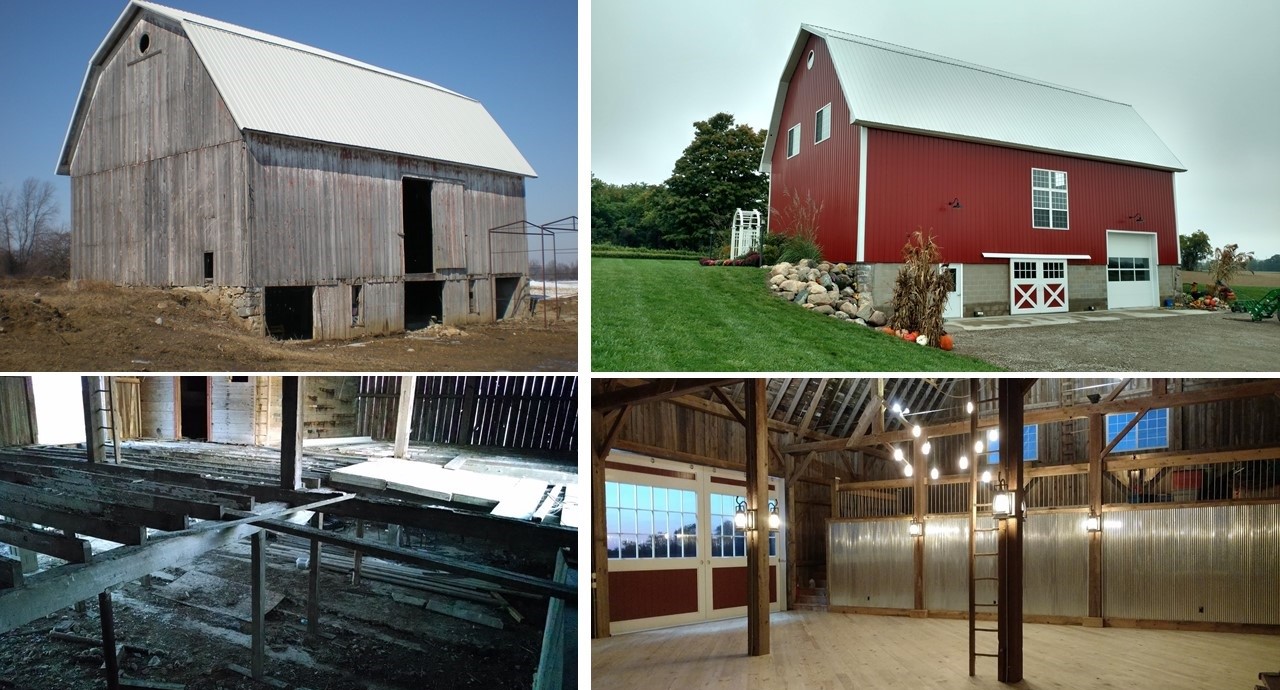 Colin Herren, a general contractor in Mt. Pleasant, built his home on the outskirts of town and bought additional acreage when the adjacent abandoned farmstead went up for sale. He and his wife Amy deemed the deteriorating barn a someday project and spent the first few years clearing six acres of overgrown timber, brush, old implements and trash.
The barn required stabilization in 2012 after a harsh winter caused a near collapse and more repair in 2014. Then "someday" really came in 2015 when they officially started serious restorations so the barn might last another few generations. After each mini success, they saw that the barn could be more than they originally imagined. Their efforts came to fruition in the fall of 2018 when they hosted 400 people at the barn for their daughter's wedding.
Read more in the Spring 2020 newsletter. 
Duplicating the Walt Whitman Barn
Good Intentions Gone Awry…
Jim Bowes inherited his grandfather's property – 20 acres of unimproved woodland in Midland County. To honor his grandfather, Jim wanted to erect a post and beam building as a vacation home. The inspiration for his design was Jeanette Routhier's model of a barn at the Walt Whitman Birthplace historic site.
Jim and Jeanette showed how their off-the-grid dream cabin was built — the process of planning, learning, constructing, and dealing with unexpected glitches.
Rest assured, vision rarely equals final outcome. Jeanette admitted, "It ain't what we thought it was going to be. But providence stepped in and gave us a bigger dream come true." Read about their undertaking in the Summer 2020 issue of the MBPN Newsletter.
"Under the Radar" visits Port Austin barns…
The popular PBS TV program about Michigan featured the Port Austin barn art project on a recent episode.