Identifying historic and cultural resources is the first step toward preservation.
The Michigan Barn and Farmstead Survey generates an index of barns and farmsteads in Michigan. The online database is hosted by MSU's MATRIX, the Center for Digital Humanities and Social Sciences.
Document Your Barn
You can get your barn (and other local properties) entered into the database by completing the survey online at michiganbarns.org. 
Click here for the Survey Form.
Community Projects
The Survey project provides a community-service opportunity for adults and youths to learn about architectural survey methods and participate in the process of preserving agricultural buildings. Its goals are to:
document traditional barns and farmsteads regionally, adding to local knowledge
contribute to a statewide database as a resource for future research
engage youth in documenting area heritage
Participating in the barn survey is a way for community members to take the next steps toward preserving local barns — whether it is for continued agricultural use or educational activities, business and tourism opportunities, or other purposes.
See michiganbarns.org for access to the database and for training.
Support from MBPN
MBPN works with communities to organize and plan for surveys and help train teams. Please contact us for more information.
For example, we partnered with Barrett Insurance (Jonesville) in a 5-county South Central Michigan survey. Download the flier for information and contacts. Visit the Barrett Insurance website for survey details.
Survey Teams in Action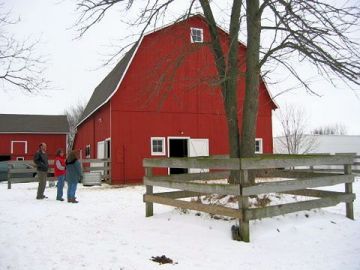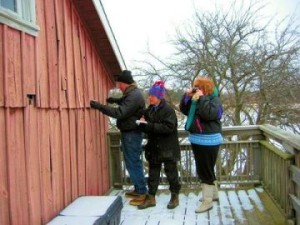 A number of volunteers, primarily from the Oakland Township Historical Society, began their project in 2002 and surveyed over 80 barns. Their results are hosted in the MSU database.
Future surveys will be conducted from the road, and the resulting documentation
will be completed as conditions allow.