See EVENTS PAGE for fall festivals that feature barns.
---
Fall Color in Michigan's Thumb: Take a DIY Barn Tour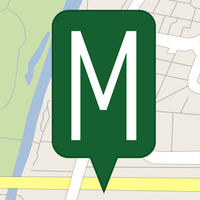 When the pandemic sidelined our usual barn tour by bus, we came up with something different – a self-driving route through the Thumb's rural landscape with the Map-N-Tour app. It features 12 stops – a variety of working barns, quilt barns and art barns as well as museums and a farmers market.
Go to Google Play or the App Store to download the free Map-N-Tour app on your smart phone or tablet. Open Map-N-Tour and choose "Story Road Michigan" – Thumb Barn/Color Tour. Couch travelers can take a desktop tour at www.storyroadmichigan.com.
Barn of the Year Awards
Applications for Barn of the Year 2022 will be accepted for 90 days beginning Nov. 1, 2021 and ending Jan. 31, 2022.

Click here and scroll for How to Enter.

The Michigan Barn Preservation Network selected five barns to receive the 2021 "Barn of the Year" designation. Barns in this year's winner's circle include those still being used for agricultural purposes as well as those adapted to new uses. They represent successful rehabilitation and preservation projects undertaken by family owners or community non-profit organizations.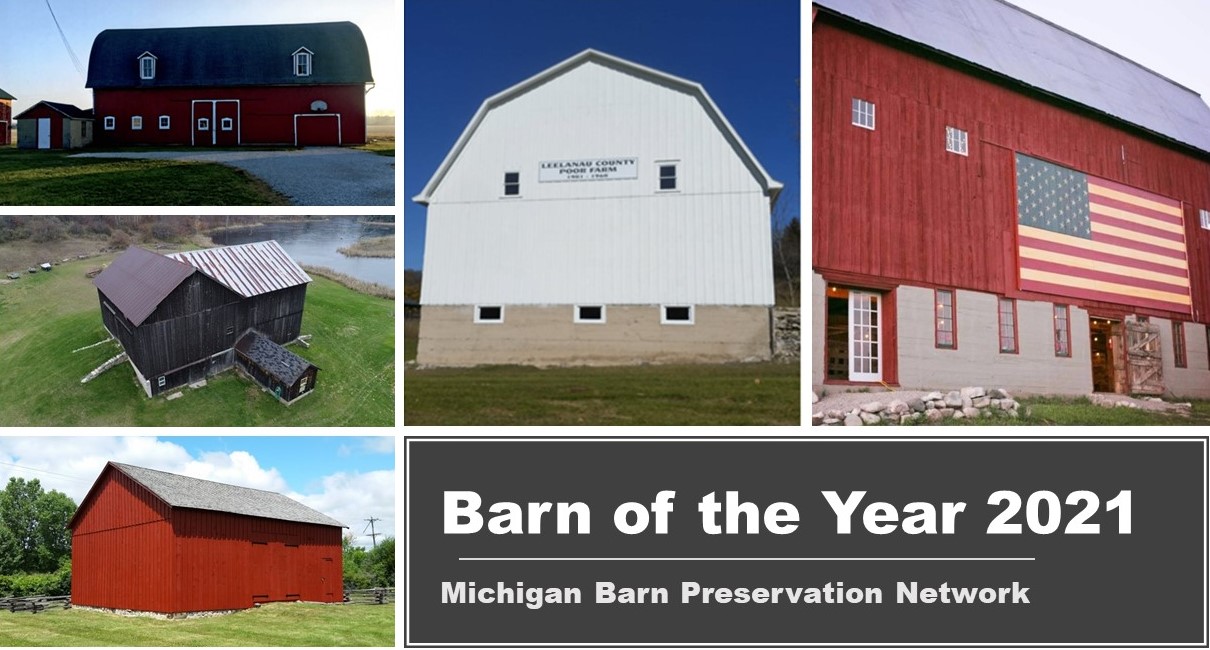 2021 Winners – Left ( top to bottom): Eisenmann Party Barn in Palmyra, Concordia Hills Barn in Farwell, Dickerson Barn in Plymouth; Middle: Leelanau County Poor Farm Barn in Maple City; Far Right: Yellow Horse Farms Barn in Pellston.

Congratulations to barn owners Jeffrey & Michelle Thompson, of Farwell, Tom & Kathy Eisenmann, of Palmyra, and Tonya & Gus Boening, of Petoskey, as well as preservation groups: Leelanau County Historic Preservation Society (Save the Poor Barn Project) and the Salem Area Historical Society.

Normally formal presentation of the awards takes place at our annual conference and tour. Since covid restrictions prevented us from holding an in-person event in 2021, MBPN board members traveled to the barn sites to visit the owners. See videos of the onsite award presentations: Concordia Hills Barn, Yellow Horse Barn, Leelanau Poor Barn, Dickerson Barn,

Click here to learn more about the winning barns.
The Three Questions We're Most Often Asked…
Q. Is there any funding for barn restoration?

Currently there are no governmental grants in Michigan to help private owners of barns with restoration or repair of their personal property. SB 54, the bill to reinstate the Michigan Historic Tax Credit, passed in both the House and Senate in December 2020. How this will affect barn owners is yet to be determined.

The Michigan Barn Preservation Network keeps tabs on funding opportunities in the form of grants, tax credits and low-interest loans. Click here for the latest information about organizations and programs that provide some kind of assistance.
Q. How can I find someone to fix my barn?
There are people all across Michigan who do repair work on old barns. Some do historically accurate timber frame work. Some do structural reinforcement by using cables. Some specialize in installing steel roofing and siding. Many will repair anything from foundation to cupola.

Our website provides a Contractor's List as a place for barn owners to start looking for help.

Also check out Tom Irrer's article about finding and vetting contractors.
Q. Why are barns red?
MBPN Board Member Keith Anderson offers several practical and cost-effective reasons why red became the dominant color of early barns. See article.

Current Issue of Newsletter
The Summer (Q3) 2021 issue features:
2021 Barn of the Year presentations and media coverage
List of Great Michigan Barns (2020 and 2021)
Elk Rapids barn perservation with Youth Work Initiative volunteers
New MBPN board member Kristine Ranger
Hadley Mill Museum fall events for barn enthusiasts
Michigan Virtual Barn School: The Basics
The Michigan Historic Preservation Network hosted a free webinar on Dec. 10, 2020 presented by the MBPN Technical Team: Steve Stier, Tammis Donaldson and Stephanie White. It covered a brief history of barns in Michigan, barn terminology and parts, and free to low-cost fixes barn owners can do. View Webinar Replay

The Barn School also offers hands-on, field workshops. For example on May 22, 2021, Steve Stier conducted a pop-up Barn School at two barns in Leelanau County to address problems with poured concrete foundations.
Annual Conference
The next MBPN Conference will be held Saturday, March 5, 2022 at MSU's Kellogg Center in East Lansing.

Stay tuned for details.
Recap of Our Most Recent (In-Person) Conference:
Barn Art – The Rise of Rural Tourism" was the theme of the Feb. 29, 2020 event at MSU's Kellogg Center in East Lansing.

The 2020 conference explored Michigan barns and their uses through agriculture, family pride, tourism and rural heritage. The morning presentations focused on the potential for rural arts and culture tourism – from the contemporary art installations in Port Austin to traditional folk art seen on quilt barn trails in 28 Michigan counties. Read more about barn art on the Annual Conference page and in the pre-conference newsletter.

The Annual Conference also featured restoration and building projects. The Herren Family's barn transformation story is in the Spring 2020 newsletter and Jim Bowes and Jeanette Routhier's tale of building a barn-inspired cabin is in the Summer 2020 issue.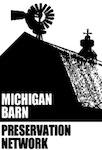 Welcome to the Michigan Barn Preservation Network (MBPN), a volunteer-based, statewide nonprofit dedicated to promoting appreciation, preservation, and rehabilitation of Michigan barns, farmsteads, and rural communities.
We are committed to the rehabilitation of barns for agricultural, commercial, public, and residential uses. Adapted re-use is a significant strategy for barn preservation – all structures need a reason for being.
MBPN fosters the sharing of barn experiences and resources with this website and through educational events, recognition programs, connections and collaboration.
Barns symbolize positive qualities of American character: strength, honesty, endurance, security and family stability. They remind us of our heritage and help tell the story of rural life. They serve as landmarks while fulfilling the purpose for which they were originally designed, housing agricultural products and animals. With maintenance and some adaptations, they can serve us well for many years to come.
Mission: Promoting Appreciation, Preservation and Rehabilitation of Michigan Barns, Farmsteads and Rural Communities since 1995.