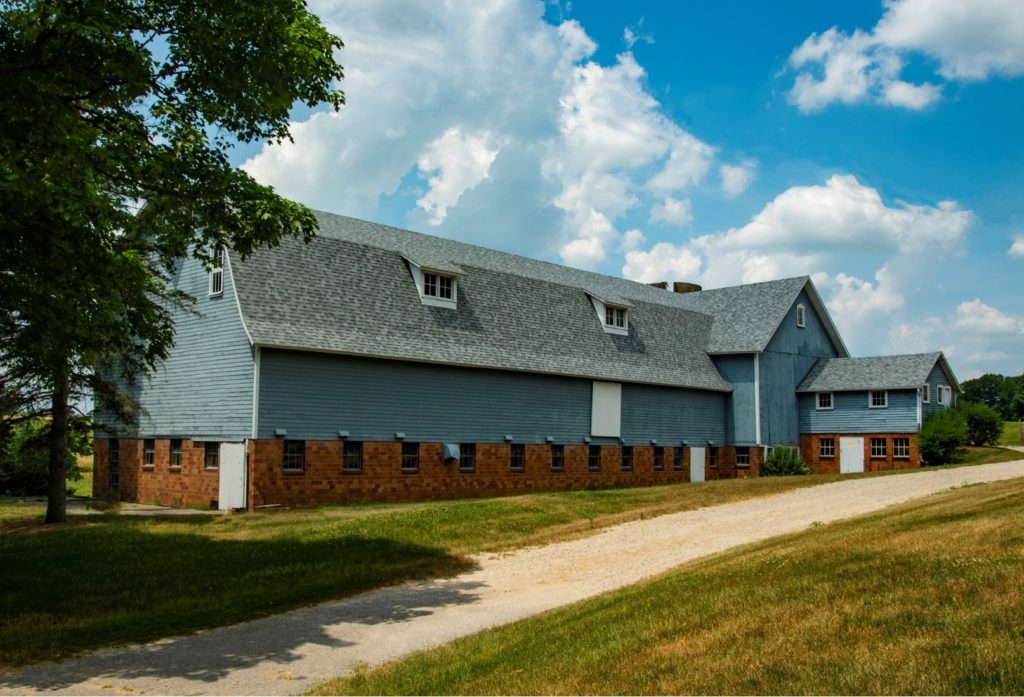 The Buth Family dairy barn in Comstock Park, MI appears on the cover of our 2021 barn calendar now available from the MBPN online store. Members have been sent a free copy. (Photo by Jim Mulvaney) 
---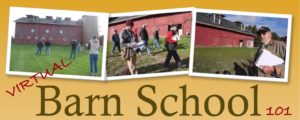 Michigan Virtual Barn School: The Basics
Dec. 10, 2020 at 1:00 pm
The Michigan Historic Preservation Network is offering a free webinar presented by the MBPN Technical Team: Steve Stier, Tammis Donaldson and Stephanie White. It will cover a brief history of barns in Michigan, barn terminology and parts, and free to low-cost fixes barn owners can do.
---
Michigan Thumb Barn Tour – Drive-It-Yourself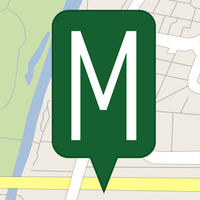 Since we can't have our usual barn tour by bus this year, we're offering something different – a self-driving route through the Thumb's rural landscape with the Map-N-Tour app. It features 12 stops – a variety of working barns, quilt barns and art barns as well as museums and a farmers market. 
Go to Google Play or the App Store to download the free Map-N-Tour app on your smart phone or tablet. Open Map-N-Tour and choose "Story Road Michigan" – Thumb Barn/Color Tour. Couch travelers can take a desktop tour at www.storyroadmichigan.com.
---
*** 2021 Barn of the Year submissions open Nov. 1, 2020 and end Feb. 1, 2021. ***
Don't wait to get started. Take the required pictures of your barn now before relentless snow buries all that is green.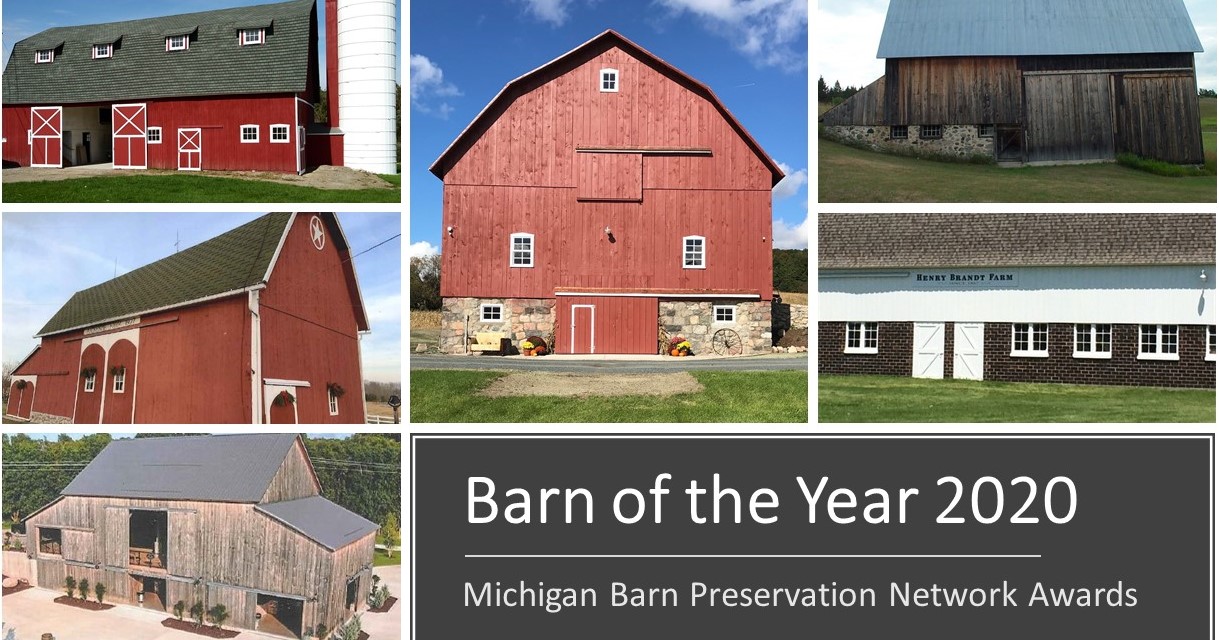 MBPN recognized six barns and honored their owners at the  Annual Conference held Feb. 29, 2020 at MSU's Kellogg Center in East Lansing. This year's honorees revealed fascinating stories of tradition, family, determination, work ethic, diversity and love.
Click on the story title to read.  More about the winners is on the Barn of the Year page.
Photo collage above (From top: 3 barns on left – Gierok, MacKenzie, Heritage; 1 in center – Buck; 2 on right – Brunson, Brandt)
Gierok Barn, Rochester Hills, MI – Sears & Roebuck 'Kit' Barn: College decides to preserve, not tear down historic barn
MacKenzie Barn, Adrian MI – A Labor of Love: DIY projects give new life to family barn
Heritage Wedding Barns, Shelby, MI – Wedding Venue Business: Restoration experts relocate and rebuild a barn of their own
Buck Barn, Ludington, MI – A Tribute to Dad: Son takes on stewardship to rehabilitate family barn
Brunson Barn, Glen Arbor, MI – Historic Rural District: National Park Service, preservationists and volunteers save barn
Henry Brandt Barn, Bay City, MI – Sesquicentennial Farm: Stately double barn remains centerpiece of farmstead
Looking for someone to fix your barn?
There are people all across Michigan who do repair work on old barns. Some do historically accurate timber frame work. Some do structural reinforcement by using cables. Some specialize in installing steel roofing and siding. Many will repair anything from foundation to cupola.
Our website provides a Contractor's List as a place for barn owners to start looking for help.
Also check out Tom Irrer's article about finding and vetting contractors.
---
Is there any funding for barn restoration?
This is the most frequent inquiry we receive.  But currently there are no governmental grants in Michigan to help private owners of barns with restoration or repair of their personal property. 
The Michigan Barn Preservation Network keeps tabs on funding opportunities in the form of grants, tax credits and low-interest loans. Click here for the latest information about organizations and programs that provide some kind of assistance.

Current Issue of Newsletter
The Fall 2020 issue features our do-it-yourself, drive-by Barn Tour into Michigan's Thumb, the call for 2021 Barn of the Year nominations and a letter from MBPN President Tom Irrer on the State of Barn Preservation in Michigan. We honor the Hanna Barn in Stalwart and the Rasmussen Barn in Clinton as Great Michigan Barns and recognize Tom Duncan, of Bear Lake, for his "labor of love" barn restoration.
MBPN Annual Conference 
"Barn Art – The Rise of Rural Tourism" was the theme of the Feb. 29, 2020 event at MSU's Kellogg Center in East Lansing. 

The 2020 conference explored Michigan barns and their uses through agriculture, family pride, tourism and rural heritage. The morning presentations focused on the potential for rural arts and culture tourism – from the contemporary art installations in Port Austin to traditional folk art seen on quilt barn trails in 28 Michigan counties. Read more about barn art on the Annual Conference page and in the pre-conference newsletter.

Property Owners Share Their Journey…
The Annual Conference also featured restoration and building projects inspired by the iconic barn form.

An old barn is not only saved, but transformed into a showpiece…
After a particularly harsh winter, Colin Herren discovered his old barn was in danger of collapsing. He took initial steps to stabilize the structure (left) and eventually decided to go all out on the restoration (right). The Herren Family's barn transformation story is featured in the Spring 2020 newsletter.
Building a Barn-inspired Cabin in the Woods
Jim Bowes and Jeanette Routhier shared the vision in their hearts as they set out to construct a vacation home modeled after a barn at the Walt Whitman birthplace. The building process involved a lot of planning, learning and dealing with unexpected glitches.  
The end product wasn't what they thought it was going to be. But providence stepped in and gave them a bigger dream come true. See article in Summer 2020 Newsletter.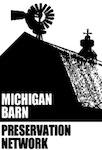 Welcome to the Michigan Barn Preservation Network (MBPN), a volunteer-based, statewide nonprofit dedicated to promoting appreciation, preservation, and rehabilitation of Michigan barns, farmsteads, and rural communities.
We are committed to the rehabilitation of barns for agricultural, commercial, public, and residential uses. Adapted re-use is a significant strategy for barn preservation – all structures need a reason for being.
MBPN fosters the sharing of barn experiences and resources with this website and through educational events, recognition programs, connections and collaboration. 
Barns symbolize positive qualities of American character: strength, honesty, endurance, security and family stability. They remind us of our heritage and help tell the story of rural life. They serve as landmarks while fulfilling the purpose for which they were originally designed, housing agricultural products and animals. With maintenance and some adaptations, they can serve us well for many years to come.
---
Mission: Promoting Appreciation, Preservation and Rehabilitation of Michigan Barns, Farmsteads and Rural Communities since 1995.