Welcome to the Michigan Barn Preservation Network, a volunteer-based, statewide nonprofit dedicated to promoting appreciation, preservation, and rehabilitation of Michigan barns, farmsteads, and rural communities.

We are committed to the rehabilitation of barns for agricultural, commercial, public, and residential uses. Adapted re-use is a significant strategy for barn preservation – all structures need a reason for being.

MBPN Annual Conference
Barn Art – The Rise of Rural Tourism
Saturday, Feb. 29 at MSU's Kellogg Center in East Lansing
This year's conference explores Michigan barns and their uses through agriculture, family pride, tourism and rural heritage. We'll look at the potential for rural arts and culture tourism – from the contemporary art installations in Port Austin to traditional folk art seen on quilt barn trails in 28 Michigan counties. We'll also hear how the iconic barn form has inspired property owners in their restoration and building projects. 

Arts and Culture Speakers
Carl Osentoski, keynote speaker, will shed new light on possibilities for adaptive reuse of barns and share the path a Thumb Area community took to become a rural arts destination.
Cathy McCune, co-chair of the Gratiot County Quilt Barn Trail committee, will show how quilt designs are enhancing barns and drawing attention to our rural heritage.
Our own Jim Mulvany will inform us about new ways to produce hex signs for mounting on barns. He'll also entertain us with the meaning and lore behind these images.
Read more on Conference page
Property Owners Share Their Journey…

An old barn is not only saved, but transformed into a showpiece…
After a particularly harsh winter, Colin Herren discovered his old barn was in danger of collapsing. He took initial steps to stabilize the structure (left) and then decided to go all out on the restoration (right). Hear his barn transformation story: "Someday Farm" – Reimagining What Our Barn Could Be" at the Annual Conference on Feb. 29.
Duplicating the Walt Whitman Barn — Good Intentions Gone Awry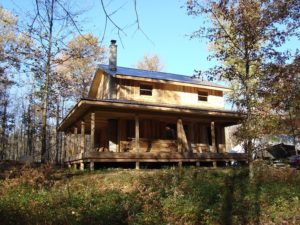 Jim Bowes and Jeanette Routhier set out to build a cabin in the woods modeled after a post and beam barn at the Walt Whitman Birthplace historic site. The end product wasn't what they thought it was going to be. But providence stepped in and gave them a bigger dream come true.

They'll share their process of planning, learning, constructing, and dealing with all the unexpected glitches — taking us from the vision in their hearts to the standing structure they enjoy today.
More Conference Highlights…

First Order of Business
Membership Meeting – Tom Irrer, MBPN president, will call the annual meeting to order at 9am to update members on the Michigan Barn and Farmstead Survey, MBPN Endowment Fund, plans for a fall barn tour and other activities.
 Lunch Agenda
Live Auction – Professional auctioneer Chuck Chestnut returns to raise funds for MBPN. (If you have items to donate to the live auction, contact Jeanette Routhier at jrouthie@umich.edu or 810-287-5634.)
Barn of the Year Awards – MBPN will recognize preservation efforts and honor Michigan barns that exemplify outstanding character.
For more information about the conference, click here. 
"Under the Radar" visits Port Austin barns…
As featured in the popular PBS TV program, our keynote speaker, Carl Osentoski, will discuss and showcase the Port Austin barn art project at the MBPN Annual Conference on Feb. 29.

Join us at MSU's Kellogg Center in East Lansing. Click here for information.

Winter 2020 Newsletter
Click here to read most recent issue.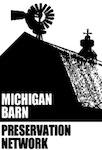 Barns symbolize positive qualities of American character: strength, honesty, endurance, security and family stability. They remind us of our heritage and help tell the story of rural life. They serve as landmarks while fulfilling the purpose for which they were originally designed, housing agricultural products and animals. With maintenance and some adaptations, they can serve us well for many years to come.
Michigan Barn Preservation Network is a member of:
– Michigan Historic Preservation Network (MHPN)
– National Trust for Historic Preservation
– National Barn Alliance (NBA)
MBPN fosters the sharing of barn experiences and resources with this website and through educational events, recognition programs, connections and collaboration.
Mission: Promoting Appreciation, Preservation and Rehabilitation of Michigan Barns, Farmsteads and Rural Communities since 1995.