Welcome to the Michigan Barn Preservation Network, a volunteer-based, statewide nonprofit dedicated to promoting appreciation, preservation, and rehabilitation of Michigan barns, farmsteads, and rural communities. We are committed to the rehabilitation of barns for agricultural, commercial, public, and residential uses. Adapted re-use is a significant strategy for barn preservation – all structures need a reason for being.
Mark Your Calendar…
MBPN Annual Conference, Barn Tour & Membership Meeting
May 31 – June 1, 2019
Barn Tour in Ann Arbor area – Fri. May 31
Conference and Annual Meeting in Ypsilanti – Sat. June 1
(Details coming soon.)
2019 Barn of the Year Submissions Due April 1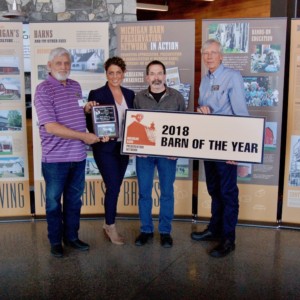 Barns throughout Michigan and the whole U.S. are rapidly disappearing.  With few incentives to maintain and restore historic barns, and little public awareness of the importance of preserving these irreplaceable and culturally significant artifacts, the history of our rural heritage is at risk of being lost and forgotten. The Barn of the Year Award seeks to capture the public's attention by recognizing barns that have been saved and to inspire others to become barn stewards.
The MBPN Awards Committee is accepting nominations through April 1, 2019. The awards will be presented at the 24th Annual Conference, Barn Tour and Meeting this spring in Ann Arbor.  Application Form.
2019 MBPN Annual Calendar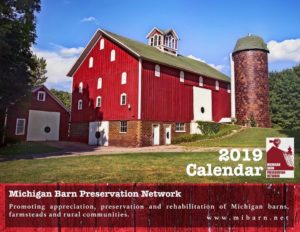 Twelve restored Michigan barns are presented as inspiration and encouragement for regular maintenance, rehabilitation and restoration.
The calendar is distributed free by mail to all members of the MBPN.  Additional copies are available for a $5.00 postage and handling fee.
Contact Jim Mulvany via email at mulvanyjamese@gmail.com or via U. S. Mail at 444 High Point Drive, #6, Mason, Michigan 48854. Please make checks payable to MBPN.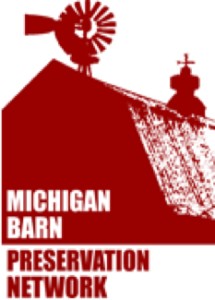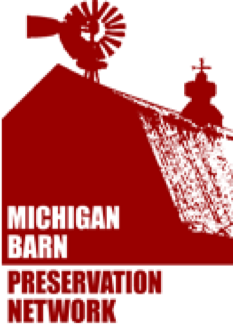 "Barns symbolize positive qualities of American character: strength, honesty, endurance, security and family stability. They remind us of our heritage and help tell the story of rural life. They serve as landmarks while fulfilling the purpose for which they were originally designed, housing agricultural products and animals. With maintenance and some adaptations, they can serve us well for many years to come."
Michigan Barn Preservation Network is a member of:
– Michigan Historic Preservation Network (MHPN)
– National Trust for Historic Preservation
– National Barn Alliance (NBA)
MBPN fosters the sharing of barn experiences and resources with this website and through educational events, recognition programs, connections and collaboration.
Mission: Promoting Appreciation, Preservation and Rehabilitation of Michigan Barns, Farmsteads and Rural Communities since 1995.