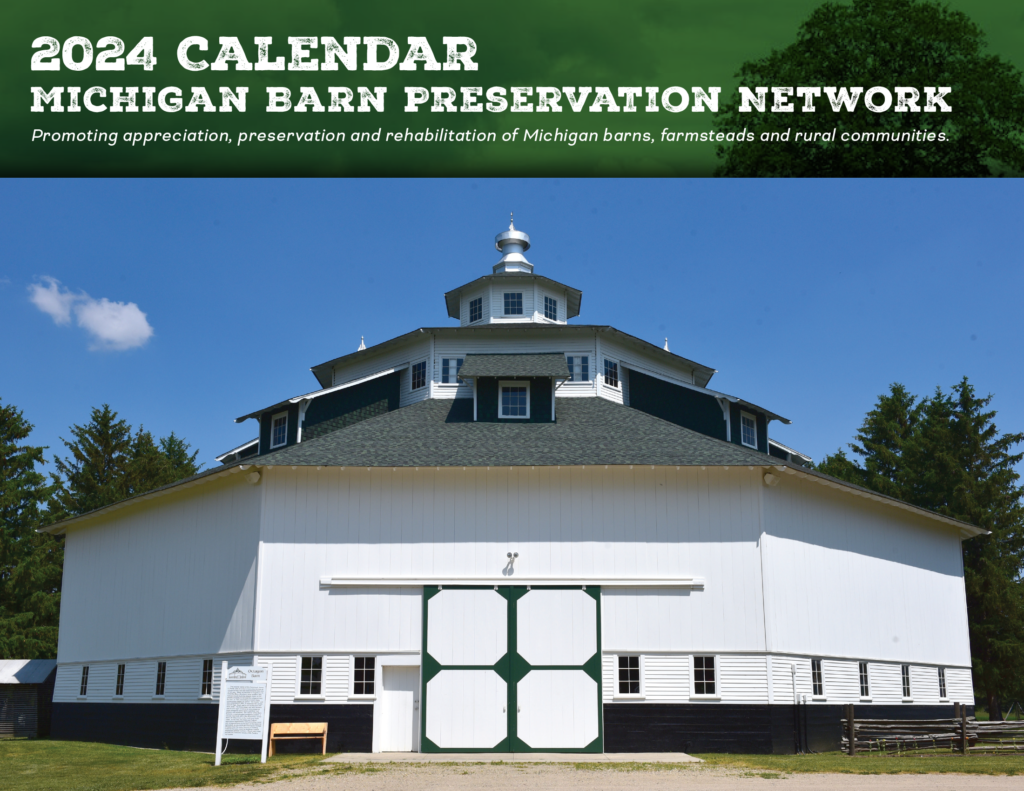 Happy 100th Birthday
The Thumb Octagon Barn (circa 1924) was chosen as the cover for the 2024 MBPN calendar. Located 1-1/2 miles outside of Gagetown in Tuscola County, it is believed to be the largest octagon barn in the country and is registered as a Michigan Historical Site. The restoration of this barn began in 1997 and continued through 2006, led by a group of volunteers called Friends of the Thumb Octagon Barn.
MBPN members receive a free calendar in the mail. To purchase a calendar, go to the MBPN online store. If ordering more than 4 copies, please contact [email protected] for the bulk rate.
---
News
Nominations Now Open for 2024 Barn of the Year: The deadline for submitting applications is Jan. 15, 2024. Click here for instructions and the form. See below for 2023 awardees.
Join or Renew Membership for 2024: Dues are payable now for the new year. Click here.
Date Set for 2024 Annual Conference: We will be returning to MSU's Kellogg Center in East Lansing on Saturday, Feb. 24 for the 2024 Annual Conference, which includes the membership meeting, conference speakers, buffet lunch, Barn of the Year Awards, fundraising auction, networking and fun!
---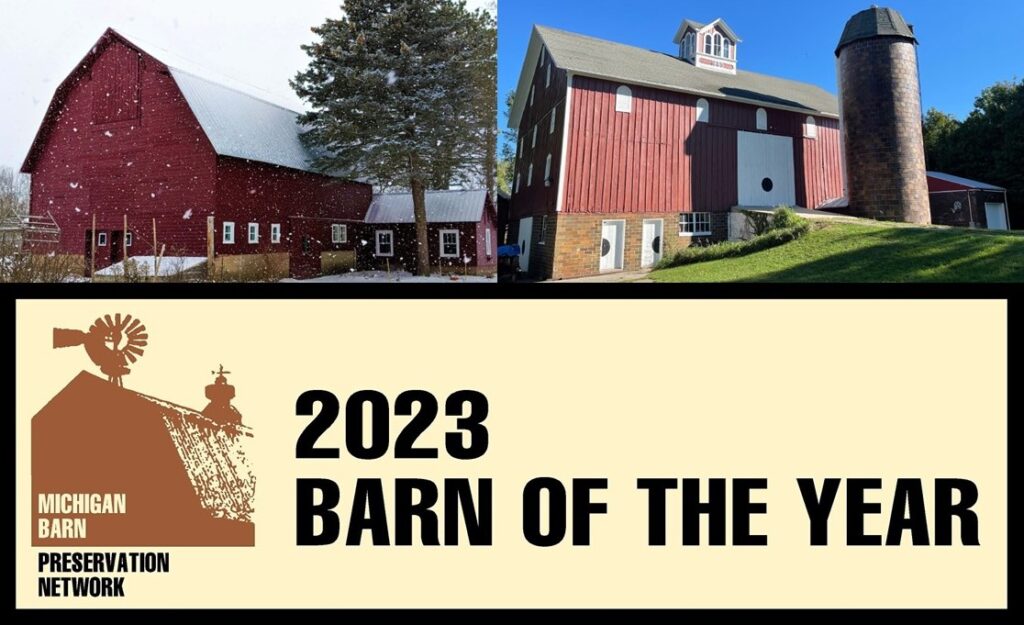 Each year, the Michigan Barn Preservation Network recognizes barns and their owners for their efforts in preserving icons of our state's agricultural heritage. Seven barns received the prestigious award at the MBPN Annual Conference on March 4, 2023.
Continuing Agriculture Winners
Ebers Family Barn—Comstock Park, MI (Kent County), John Ebers & Family
Pond House Farm Barn—Manton, MI (Wexford County), Jim &Theresa Williams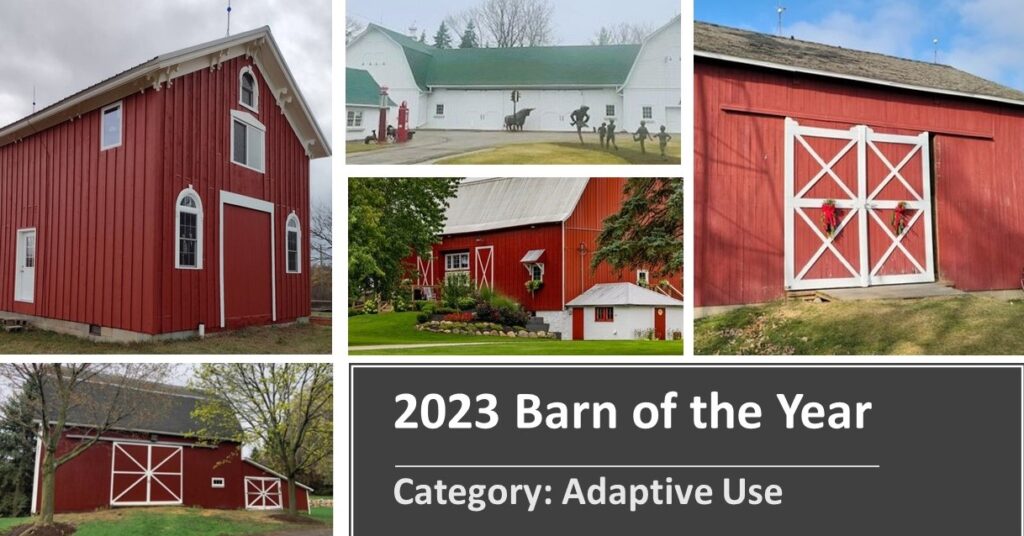 Adaptive Use Winners
Maple Woods Farm Barn—Farmington Hills, MI (Oakland County), Lee & Floy Barthel, Earl Baxtresser
Pawlusiak Barn—Clinton, MI (Washtenaw County), Robert & Lois Pawlusiak
Murphy Barn—Rochester Hills, MI (Oakland County), Keith & Kelly Murphy
Barn 1888—Hopkins, MI (Allegan County), Bryan & Danielle Howarth
Unruh Barn—Okemos, MI (Ingham County), Meridian Charter Township
---
Parade of Great Michigan Barns 2023

All submissions for Barn of the Year deserve recognition for their unique characteristics and history. In recognition of the owners' efforts to faithfully rehabilitate and maintain their barn, the Michigan Barn Preservation Network has designated 18 properties as Great Michigan Barns 2023.
See Barn of the Year slide show with pictures of the 18 nominated barns — BEFORE, DURING and AFTER their transformation.
---
Save the Date: Feb. 24, 2024
Information about the 2024 Annual Conference coming soon

2023 Recap: The Hands-On Work of Saving Barns
The 2023 MBPN Annual Conference, held March 4 in East Lansing, featured four presenters who have each spent many years doing the actual hands-on work of barn preservation. We learned from experts Chad Stitt of American Heritage Barn Preservation, Dan Dietz of Deitz House Moving Engineers, Michael Schmitt, Stone Mason, and Ken Brock of Legendary Timberworks. See agenda. (Full coverage of the event is in the Spring 2023 Newsletter.)
---
Barn Tours
The 2023 fall bus tour in Clare and N. Isabella counties on Oct. 3 included a visit to a rural manufacturing facility, two event venues, a Barn of the Year winner, and two barn sites in various stages of restoration. Participants who arrived the day before enjoyed a traditional Amish dinner at an area farm.
---
The Questions We're Most Often Asked…
Q. Is there any funding for barn restoration?
The Michigan Barn Preservation Network keeps tabs on funding opportunities in the form of grants, tax credits and low-interest loans. Click here for the latest information about organizations and programs that provide some kind of assistance.
Currently there are no governmental grants in Michigan to help private owners of barns with restoration or repair of their personal property. Work on barns which are owned by municipalities, nonprofit organizations or other public entities may be eligible for consideration for grants and awards through governmental and foundation programs. Listing on the National or State Register of Historic Places is a requirement for most grants.
Q. How can I find someone to fix my barn?
There are people all across Michigan who do repair work on old barns. Some do historically accurate timber frame work. Some do structural reinforcement by using cables. Some specialize in installing steel roofing and siding. Many will repair anything from foundation to cupola.
Our website provides a Contractor's List as a place for barn owners to start looking for help.
Also check out Tom Irrer's article about finding and vetting contractors.
Q. Why are barns red?
MBPN Board Member Keith Anderson offers several practical and cost-effective reasons why red became the dominant color of early barns.  See article.
---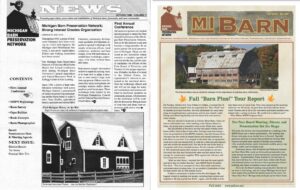 The Fall 2023 issue calls for 2024 Barn of the Year nominations, reviews the fall "Barns Plus" tour that was based in Clare and Isabella counties, profiles four Great Michigan Barns, presents a retrospective on the preservation work of Frank Graham and shares other MBPN news.
103 Issues and Counting…
Since 1996 this quarterly update for members has featured innumerable stories and photos of barns throughout Michigan…and reports on what our board members, volunteers and supporters are doing to promote our mission. Click here to read the very first issue.
Become a MBPN member to receive the print edition of the newsletter in the mail several times a year.
Visit our archived library of newsletters. 
---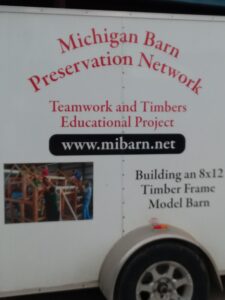 On the Road:
Teamwork & Timbers
Teamwork & Timbers is a one-of-a-kind learning opportunity for youth to experience the barn-raising tradition that was common in Michigan's rural communities during the late 19th and early 20th centuries.
At the request of local organizations, our MBPN volunteers deliver the structural components to festival and school sites in Michigan and coordinate the assembly of a 1/4 size 19th-century timber frame model. While working on this life-size 3-D puzzle, students learn historic construction techniques and architectural terms. They also are challenged to use their math, science, and engineering skills.
This educational experience gives Michigan youth and adults a glimpse into our agricultural heritage, the pride of craftsmanship, and what can happen when people come together to accomplish something that they cannot do alone.
Click here to see where the Teamwork & Timbers truck has been and is going, including the visit to MSU's Grandparents University in late June, when young teens in the Teamwork & Timbers class built a model timber frame barn. 
Contact MBPN to ask about scheduling T&T for your group.
---
MBPN's Barn School
The Michigan Barn Preservation Network offers barn workshops and classes in both onsite and virtual formats. In the hands-on field program, participants spend a Saturday assessing the condition and stability of a barn and learn about barn architecture, construction, maintenance and repair approaches.
MBPN's Virtual Barn School 101 is featured on the YouTube channel of the Michigan Historic Preservation. Our Technical Team (Steve Stier, Tammis Donaldson and Stephanie White) covered a brief history of barns in Michigan, barn terminology and parts, and free to low-cost fixes barn owners can do. View Webinar Replay here.
Learn more about the Barn School here.
---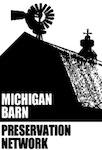 Welcome to the Michigan Barn Preservation Network (MBPN), a volunteer-based, statewide nonprofit dedicated to promoting appreciation, preservation, and rehabilitation of Michigan barns, farmsteads, and rural communities.
We are committed to the rehabilitation of barns for agricultural, commercial, public, and residential uses. Adapted re-use is a significant strategy for barn preservation – all structures need a reason for being.
MBPN fosters the sharing of barn experiences and resources with this website and through educational events, recognition programs, connections and collaboration. 
Barns symbolize positive qualities of American character: strength, honesty, endurance, security and family stability. They remind us of our heritage and help tell the story of rural life. They serve as landmarks while fulfilling the purpose for which they were originally designed, housing agricultural products and animals. With maintenance and some adaptations, they can serve us well for many years to come.
Mission: Promoting Appreciation, Preservation and Rehabilitation of Michigan Barns, Farmsteads and Rural Communities since 1995.
---