Notice
: Trying to access array offset on value of type null in
/var/www/wp-content/plugins/fusion-builder/shortcodes/fusion-text.php
on line
67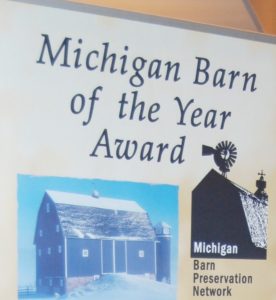 Nominations for the 2022 awards will be accepted from Nov. 1, 2021 through Jan. 31, 2022.
This is the 26th year the Michigan Barn Preservation Network has presented "Barn of the Year" Awards. Over the past quarter century, a total of 95 barns from across Michigan have been recognized for their unique qualities and/or preservation efforts.
Eligibility
To be eligible, the barn must be in-use, either for continued agricultural use or adapted for other uses. Barns must retain their overall appearance — both in their interior and exterior barn characteristics.
Categories:
Award categories cover barns that continue to be used for agriculture and those that are adapted for other uses and whether the barn is family-owned or the project of a non-profit or commercial entity. See nomination form.
Evaluation
Nominated barns are judged on (1) completeness of information presented in the application, (2) sensitivity and integrity of repairs or modifications, (3) visual appeal, (4) creativity, (5) thoroughness of work and (6) effort expended to repair and maintain.
Application Componets:
Four items are required for the submission:
Click here for 2022 Barn of the Year application form. For questions, contact the program chairman, Keith Anderson.
E-mail: klanderson42@gmail.com
Mobile: 616-540-6701
Past Winners
Click here for database of Barn of the Year winners from 1997 to 2016. Also see showcase of winners from recent years: